BISCUITS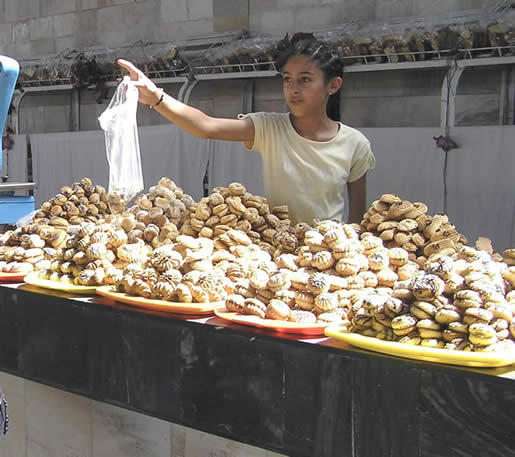 Biscuit seller in Turkmenistan
AUNT GRACE'S SHORTBREAD
4 oz plain flour
1 oz rice flour
1 oz cornflour
4 oz butter
2 oz caster sugar
Sift the flours onto a pastry board. Cream together the butter and sugar and add to the flour mixture. Knead into a dough. Roll out to about ½ inch in depth. Cut into squares or other shapes and lay out on a buttered baking tray. Bake for about 45 minutes in an oven pre-heated to gas mark 3/160° C. The pieces should be golden brown.
MERINGUES WITH FLAKED ALMONDS (for 2)
Egg whites freeze very well and it is worth putting any spare ones in the freezer for making meringues later. They whip best in a slightly warmed stainless steel or copper bowl (something to do with ion exchange).
2 egg whites
2 oz/50-60mg caster sugar
2 tablespoons flaked almonds.
Toast the flaked almonds in a dry frying-pan, or in the oven until light brown and leave to cool. Whip the egg whites until they hold their peaks. Gradually whisk in the sugar. Fold in the almonds. Spoon out onto a baking tray lined with non-stick baking paper (it should make about six small meringues). Bake for 2-3 hours in an oven pre-heated to 125°C//gas mark ½. Cool and store in an air-tight tin, where they can be kept for up to a week.
PASTICCINI DI MANDORLE (makes 12-16 biscuits)
The nearest I can get to Sienese ricciarelli.
350gr ground almonds
150gr icing sugar, sifted, plus some for dusting
Zest of 2 unwaxed lemons
2 medium eggs
In a large bowl, mix together all the ingredients to form a soft, sticky dough. Dust your hands with icing sugar and roll walnut-sized pieces of the dough into balls. Place on a baking tray lined with baking parchment, making an indentation with your finger in the middle of each ball. Bake for about 12 minutes in an over pre-heated to 180°C. Transfer to a wire rack to cool. Will keep for a couple of weeks in an air-tight tin.
CRISPY NUT FLAPJACKS
60gr/3 tablespoons butter
70gr Demerara sugar
2 tablespoons runny honey
1 tablespoon golden syrup
1-2 tablespoons tahini paste
130gr unsalted flaked almonds or shelled walnuts
70gr rolled or porridge oats
Crush the nuts with a rolling pin. Put into a bowl together with the oats. Heat the sugar, honey and golden syrup gently in a small saucepan until the sugar is melted. Take off the heat and whisk in the tahini paste. Pour into the nut and oat mixture and mix thoroughly. Spread on a baking tray lined with baking parchment, so that it is about a centimetre thick or a bit less, pressing down well. Bake in an oven pre-heated to 170°C/gas mark 4 for 20 minutes or until golden-brown. Leave to cool for 10 minutes. Then, while it is still soft, cut it in the baking tray into squares or oblongs. Leave to cool completely before removing from the baking tray and breaking it into its squares. They will stay crispy only for a couple of days.
There are also some cakes on the cold puddings page which can be eaten either as a cake or as a dessert.