12. CAELIA ABROAD 1967-76
When Caelia was fifteen, she went to Seville for the Easter Holy Week processions, and made many Spanish friends. Thereafter, she turned very much towards the Spanish-speaking world, later settling and marrying in South America. She was by far the most copious letter-writer of Florence and Michael's three daughters, but only a few of her letters are included here as she has put together her own illustrated selection.
In the autumn of 1965, Caelia came back from South America to England to do a degree in Latin American Studies at Essex University. In the summer of 1967, she joined a group of unknown students (who had advertised in the Times for an extra person) on an overland expedition in a Volkswagen minibus from London to Kathmandu – a typical journey for adventurous students of the period.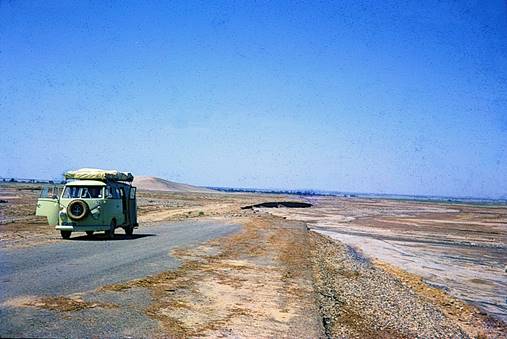 The Volkswagen minibus in Afghanistan
Letter 12.1. Caelia Lambert in Srinagar, Kashmir, to Michael Lambert at 2 Aubrey Road, London, 26 August 1967
Dear Daddy,
We have got up to Kashmir and have run into our first riots and curfews, although in fact we have just missed them, because they were the day we arrived. … The first part of the journey was overnight train to Pathankot; it was mostly full of Indian Army officers going up to Kashmir where half the Indian Army is stationed. That time, we went first class and they certainly know how to do things. Everyone travels with vast quantities of luggage which red-shirted porters carry on their heads, and included among the trunks and suitcases is what I suppose would be called a "bed-roll" – a mattress, pillow, sheets and blanket, all rolled up in canvas, and this they stretch out on the bunks. They serve tea and coffee in the early morning. Since there is no restaurant car on the train, they send a telegram from Delhi before the train leaves to a station up the line, so they have the tea ready when the train passes. However, even this efficiency breaks down in a typical Indian way, because the train was late. As the tea was ordered for six a.m., at that hour they got the tea to where the train was then (Indian trains stop in many stations); but then, at about seven, the train got into the station where the tea was ordered from, and another lot arrived!
Then there was a very bumpy twelve-hour drive up an endless mountain road, for which we shared a large taxi with two businessmen returning from a purchasing trip to Bombay, a boy from the South who spoke no Hindi and only a few words of English (imagine travelling in your own country and not being able to speak the language), and a fascinating man from Peashawar who, being Hindu, had come to India at the time of the partition [of British India into India and Pakistan in 1947] and at the same time been sacked from his position as Chief of Police because he refused to look kindly on corruption. It took him twenty years of appeals and lawsuits to be reinstated in the force. He was going on a pilgrimage of thanks for winning his case this summer, to a shrine high in the mountains. …
Srinagar is a lovely place. … It is built next to a series of lakes and canals and rivers, so there are bridges and waterfronts everywhere, and half the population seems to live on houseboats. In fact we are in one ourselves, moored under weeping willows on a wide canal-cum-narrow lake which is part of the network connecting the lakes. If we had been richer, we would have been able to take a houseboat which could be towed around and moored anywhere on the lake we wanted. We are sharing it with a girl working for the Peace Corps in Kabul. It's really quite luxurious. Each bedroom has a private bathroom; there is a sitting-room furnished with carpets and armchairs; and we have meals cooked up and served by the cook in a little kitchen-boat behind. There is a roof for sun-bathing, and last night we had duck for supper.
27 August.
Yesterday, we took one of their gondola-type boats, except much more comfortable and with a little roof, round the lakes and waterways. It was simply beautiful, through the natural canals overhung with weeping willows, and through masses of enormous water lilies with big pink flowers, past villages made all of carved wood. We visited gardens laid out by Mogul emperors, and had a typical English tea in one, which was just like an English garden-party except for the flocks of green parrots screeching past. And always the mountains behind, some even snow-capped, reflected in the still, still water. It is truly one of the most beautiful places I have been to. …
Today we were planning to go up into the mountains but they have imposed a 36-hour curfew (they aren't very serious here, but it may mean there are no buses). Still, we must see.
I seen to have written four pages and said nothing!
Lots of love and kisses,
Caelia
-------------------------------------------------------------------------------------------------
Letter 12.2. Caelia Lambert in New Delhi to Florence Lambert at Feldkirch, Baden-Württemburg (where she was staying with the Hildebrands), 4 September 1967.
Dear Mummy,
I suppose Daddy has told you that I am no longer bumping along in the Volkswagen with the others. The American and me have parted with them and we are returning home on our own.
The reason for this is quite simple and I am sure you will approve. Three months is too short a time to go from London to Kathmandu and back, and they were not interested in seeing anything, beautiful views, interesting markets, architecture, temples. Quite frankly, I don't know why they made such a trip or whether they will get anything out of it, as they were just rushing past everything, making no detours and hardly stopping to see anything. This was driving me mad, so I decided I preferred to leave them, see something and appreciate the fact that I am in all these countries.
There are lots of people training and hitching round India; it's perfectly safe; so far I've had no diseases except a cold; no pariah dogs or tigers; and Tim, the American, is a bit in love with me so he will look after me. And once one get out here, it is much easier than one imagines when one is at home.
We have just come back from a week in Kashmir, where we lived on a houseboat. It's a mass of lakes and waterways covered with large pink water lilies and overhung with weeping willows. All in the Kashmir valley, surrounded by snow-capped Himalyas. It was beautiful and fascinating, everyone living on boats and travelling by paddle-boat. But we ran into some Hindu-Muslim troubles and they imposed a 72-hour curfew, so we had to stay on the houseboat for three days. Still, it was cool and we ate lots; of course I am getting fatter and fatter.
… Kathmandu was a sort of holy city like Lhasa and until just over ten years ago no foreigners were allowed. It is full of temples and pagodas and beautiful wood-carvings and bells and paintings, and hundreds, literally hundreds (there is one on every corner) of shrines to the various Hindu gods, elephants with six hands, bells, cows, monkeys, fertility symbols, more bells, or just shapeless bits of stone, some painted orange or yellow, some sprinkled with offerings of flowers and rice, but always filthy and stinking. All their temples, and in India too, are dirty, I suppose because the offerings can never be taken away, so they just rot. Some have monkeys living in the temples, which does not help the smell. Without a doubt, Asia is the smelliest continent, Kabul, Vanares and Kathmandu scoring top marks, although it's hard to say whether they are really the worst. …
I must stop now to go and collect a travel permit for Pakistan (oh yes, we are going back via Samarkand, Moscow and Leningrad). … I have bought myself – actually it was given to me by an Indian – one of those sort of trouser suits the Pakistani (and Indian) women wear so that I can climb onto the sleeping berths in third class railway compartments and sleep on waiting-room floors and still be decent.
All love and kisses,
Caelia
-----------------------------------------------------------------------------------
Letter 12.3. Caelia Lambert in Kabul to Michael Lambert at 2 Aubrey Road, London W.8, 10 September 1967
Dear Daddy,
We have at last come to rest here after what seems like weeks of travelling. Starting with a 12-hour bus ride, in the back of an Indian bus down from Kashmir, along a narrow, bumpy mountainous road through the Himalayas, from which a bus slipped a couple of months ago and plunged 300 feet down the mountainside. Then a night in a bare room. Indians don't provide mattresses, let alone bedclothes, on their beds. Fortunately, the beds are not made of iron but of cord, and with rats scratching around the floor and running along the curtain rails at night, and salamanders plopping off the ceiling.
Then onto an endless succession of nights on trains in third class, sometimes so full that there was not even room for everyone even to squat on the floor, and some people tried to sleep standing up. In fact, Indians seem to be able to sleep in any position and there are so many of them – 500 million – that they are used to being cramped and having no privacy, so they just strew themselves around on top of each other, one Sikh resting his top-knot on another's fat stomach, a soldier propped up against someone else. Going to the loo at night is quite a feat of balance, stepping from edge of seat to the top of a trunk, and from windowsill to a bare space on the floor without stepping too much on semi-prostrate, crouching, sleeping bodies.
However, all through I had tremendous luck, because they use the luggage racks as berths. We never managed to reserve any, but I always managed to get one which was perhaps kept free, or which no-one claimed. I still to this day don't know how it was manoeuvred; maybe it was just because I am female and European. Being white has its advantages in India; one can get away with murder.
One loses many inhibitions too because, as there are so many people, there is no privacy and people urinate and shit and puke and wash and dress and undress in the road, and sleep in the gutters. It's the only country where I have seen completely naked men walking down streets among cars and cows. I have taken to wearing Pakistani clothes [salwar-kameez] because thus I can squat on the ground, climb onto bunks and sleep on them and still be decent. But I have not yet learnt to eat properly with my hands!!
In between trains we spent time in Delhi – rushing from banks to embassies to travel agents to shops and back, doing, doing. And in Jaipur, the pink city of India. Some of the buildings are actually made of pink stone; most of the others are pink-washed. It's beautiful with the green trees. The people too were the most colourful. The women wear the briefest bikini top, long swinging full skirts and a long veil, all the brightest reds, oranges, turquoise. And with rings on their toes and in their noses, bells round their ankles and waists and pendants on their foreheads. The men wear enormous turbans of all different colours. And bicycles everywhere. They are everywhere in India, almost as many as people. … And on to Amritsar, the golden temple of the Sikhs.
Then by another bus and by rickshaw to the border and through Pakistan as fast as possible. I dislike it; a dictatorship, expensive and the people can only insult the Indians, whereas the whole time we were in India, the only time we heard them talk of the war between India and Pakistan was in Kashmir, where it can be expected.
Yesterday we drove through the North-West frontier over the Khyber – it's only romantic in the mind, because it's not very impressive, ugly and cluttered up with the new road, an old road, a caravan trail, a river, telegraph wires, a railway, caravanserais (sort of inns for caravans), forts and anti-tank things (pyramids of reinforced concrete). It's impressive in the other direction, emerging from the mountains and seeing the Indus valley stretching never-ending below as Alexander, Muslims and endless other conquerors must have seen it. On to tea with the Afghan customs officials and up the much more impressive Kabul gorge, where one rises 3,000 feet sheer up a mountainside and into the dry heat of Kabul where, after six weeks of being damp and humid with everything going rusty and mildewy and never drying (monsoons!), one washes something and it's dry almost before you can hang it out. There is not even any condensation on a glass of iced water. …
Lots of love,
Caelia.
P.S. The weeks [of travelling] were really only nine days.
-----------------------------------------------------------------------------------
Caelia subsequently moved back to South America. In 1976, Sophia (who had joined the Diplomatic Service) was asked by the Foreign and Commonwealth Office to go with another young diplomat round a selection of British diplomatic posts and to do a report on the way that posts used their entertainment allowances. She needed to visit two countries in South America and chose Colombia as one because Caelia was living there. Sophia had become an appalling correspondent, and Florence and Michael, despairing of a direct account, had obviously asked Caelia to report on Sophia's trip. What follows is inevitably a somewhat impressionistic second-hand account.
Letter 12.4. Caelia Pereira at Calle 34, No. 6-59, Bogota, to Florence and Michael Lambert at Casanuova di Barontoli, Siena, 26 April 1976
… Sophia came on her world tour. … You want me to tell you about her trip as she does not have time. Well, she has not been on much of it yet. First she was in Madrid, which she did not see at all; she just said that she had had good food. She has too little time [typically a couple of days] in each place to see much. Then she went to Lagos which was terrible. It is very hot and humid, with mosquitoes. Nothing works; there are black-outs all the time; the streets are full of holes; no-one ever does what they say they will. The traffic must be the worst in the world: it sometimes seven hours to get from the airport, when it is a distance which would normally only take half an hour. Getting to and from work is also a problem and a shopping expedition has to be planned beforehand so as not to spend too long in traffic jams. They have too much money and no organisation. Apparently most of the cars are no more than two years old, but they all look like wrecks and the sides of roads are littered with broken, but not old, cars. She told me about a girl from the High Commission whose car kept on boiling, and she kept on taking it to be mended and it did not get better, until one day she looked under the bonnet and, although she did not know anything about cars, she could see that one of the tubes of the water system was not attached to the radiator and in the garages they had not noticed.
Then she went to Dakar in Senegal, which she said was quite nice, very French with good restaurants. … From there she went to Rio, which she said was nice. Beautiful girls and everybody dressed as though they were on a beach. Everyone there [in the diplomatic community] leads a mad social life. She stayed in an enormously luxurious penthouse which had a terrace big enough to hold a ball and enormous reception rooms. She had a suite with bathroom and sitting-room, and every time she turned round the towels were changed and waste-paper baskets emptied etc. Every night a bottle of whisky and three different soda waters and ice was put in her room, although she kept on saying she did not drink whisky.
It turns out that the previous Ambassador hated Brazilia [which had recently replaced Rio de Janeiro as the capital] and said that he must have a pied-à-terre in Rio and this penthouse was it. It cost some vast sum of money and there have been questions in Parliament about it, so they were only too delighted to be able to use it for Sophia, to justify its existence. She also went on a day-trip to Brazilia, which she did not like so much. She had lunch with half the Brazilian Government [who were being entertained by the Ambassador] in preparation for [President] Geisel's visit to Britain this summer. She did not say what the Government talked about.
Then she came here, which she included in her trip because I was here. But no-one is interested in Bogota; it is a tiny Embassy and of all the countries in the world it is the one where the Embassy writes most to London about entertaining difficulties, because they have nothing else to do. Her whole trip is to see if, in all these countries, the entertainment allowances are serving their purpose – in other words if the Embassy, by entertaining people, is making contacts or if there are more effective ways of doing so. Apparently they all hate it here. Partly because of the problem of kidnapping, the Ambassador's car is armour-plated, and he always takes different routes and is always accompanied outside by a man with a black leather bag with a machine gun in [in those days such security precautions were extremely rare for diplomats]. It seems also that they have difficulty getting in with the Colombians.
From here she is going to New York and then to Washington. Then she goes back to London for a week and then to somewhere in the Persian Gulf to meet up with her colleague who, while she was doing Latin America and West Africa, was doing East Africa and the Middle East. Then together they are going to New Delhi, Bombay, Bangkok, Hong Kong, Tokyo, Peking (if they get visas), Moscow, Paris and Bonn. …