MACKEREL, SARDINES and HERRING
Photo: Jonathan Slack www.slack.co.uk
JAPANESE-STYLE MACKEREL KEBAB (for 2)
2 big mackerel fillets
2 tablespoons soy sauce
2 tablespoons sake or medium sherry
1 dessertspoon soft brown sugar
1 tsp grated fresh ginger root
1 clove garlic, peeled and crushed or squeezed through a garlic press
Make sure all the bones have been removed from the mackerel fillets (the remains of the spinal bones down the centre of the fillets can be particularly recalcitrant, and it is easiest to cut a longitudinal V-shaped fillet out of the fillet, even though this means sacrificing a little bit of flesh along with the bones). Cut the fillets into 2-3cm pieces. Combine all the other ingredients in a bowl and mix well. Dunk the fish bits into this marinade and then thread them onto skewers. Grill on both sides until just cooked.
MACKEREL WITH CAPERS (for 2)
1 big or 2 small mackerel, filleted
1 dessertspoon flour
1 dessertspoon butter
1 tablespoon capers, roughly chopped
1 teaspoon French mustard
1 small glass white wine
1 tablespoon cream
salt, pepper
Arrange mackerel fillets in a shallow baking dish, season with salt and pepper and add the wine. Cover with foil and cook in a medium oven (gas mark 4 /180° C) for about 20 minutes or until just cooked. Remove the fish to a serving dish and quickly make the sauce. Melt the butter in a small saucepan, stir in the flour to make a roux, then stir in the wine from the cooking with a little extra water if the sauce is too thick. Finally mix in the cream, mustard and capers and serve.
MAQUEREAU A LA MOUTARDE (for 2)
2 medium mackerel, cleaned
1 dessertsp French mustard
150ml crème fraîche
juice of half a lemon
salt, pepper
Put the mackerel in an oven-proof dish. Mix the remaining ingredients together and pour over the mackerel. Cover the dish with foil and cook for 20 minutes or until just cooked in an oven pre-heated to gas mark 7/220° C.
MACKEREL WITH TOMATO VINAIGRETTE (for 2)
2 filleted mackerel, small bones removed
250 gr ripe tomatoes, peeled and deseeded
1 garlic clove, peeled and finely chopped
1 small shallot, peeled and finely chopped
1 tablespoon red wine vinegar
a few basil leaves, torn into pieces
olive oil, salt, pepper, sugar
Put the finely chopped garlic and shallot in a cup with the vinegar to soak for at least an hour. Chop the tomatoes into small pieces. Just before the meal, mix in with them the basil, ½ tsp sugar, salt, pepper, 2 tablespoons olive oil and the garlic-shallot-vinegar mixture. Season the mackerel fillets with salt and pepper. Grill them, skin side upwards first, until just cooked. Serve with the tomato vinaigrette poured over the top or to one side.
MACKEREL AND POTATO SALAD (for 2)
This can be made with either fresh or smoked mackerel.
2 large fresh mackerel fillets or 2 smoked mackerel fillets, all bones removed
250-300gr new or waxy potatoes (eg Charlottes)
100gr green beans, topped and tailed
2 tablespoons black or green olives, pitted and roughly chopped
1 small shallot, peeled and finely chopped
½ a preserved lemon, flesh removed and the rind chopped
1-2 teaspoons harissa
1 tablespoon lemon juice
Olive oil, salt, pepper, chopped parsley
Cook and peel the potatoes and cut into bite-sized pieces. Cut the beans into short lengths and boil in salted water until cooked. If using fresh mackerel, grill the fillets until just cooked. Remove the mackerel skin and break the flesh into pieces. Put the potatoes, beans, mackerel, olives, shallot and chopped preserved lemon rind in a bowl and dress with a mixture of the harissa, lemon juice, salt, pepper and a generous amount of good olive oil. Sprinkle chopped parsley over the top. Best served while still lukewarm.
ESCABÈCHE À L'ORIENTALE (for 2)
Escabèche is a Mediterranean dish, originally from Spain, involving cooked fish (usually sardines) marinaded in wine vinegar and other flavourings. Escabèche means "behead", as the heads are removed from the sardines. This "fusion" version substitutes Japanese flavourings.
2 large or 4 small fresh sardines
2-3 spring onions, trimmed and chopped
dried red chilli flakes to taste (a couple of pinches, say)
1 ½ tablespoons caster sugar
2 tablespoons soy sauce
2 tablespoons cider or rice vinegar
2 ½ tablespoons sake or dry sherry
2 tablespoons water
salt, pepper, flour, vegetable oil
Behead and gut the fish. Put 2 tablespoons of flour in a plastic bag with salt and pepper and shake the fish in it. Then take out the fish and shake off excess flour. Fry the fish in some vegetable oil on both sides until just done, and lay in a dish in which they fit snugly in one layer. Make a marinade by mixing together the spring onions, chilli, sugar, vinegar, soy sauce, sherry or sake and water. Stir thoroughly to dissolve the sugar. Pour the marinade over the sardines and marinade in the fridge for 1-3 days, turning occasionally. Serve cold with some warm new potatoes.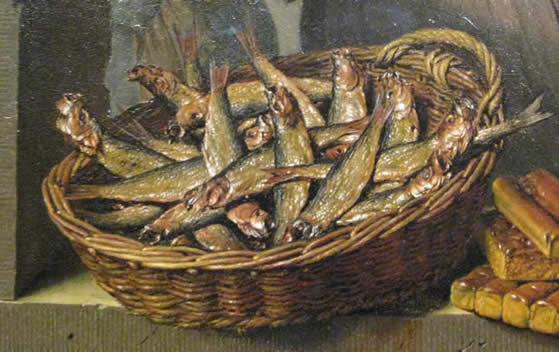 Willem van Mieris, 1732
HOW TO COOK A PERFECT KIPPER (for 2)
2 fat undyed kippers
butter
Bring a large saucepan of water (big enough to fit the kippers, even if they need to be bent a bit) to the boil. Remove from the heat and immediately immerse the kippers in the water, leaving them there for 30 seconds. Then put the opened kippers, split side uppermost, in a dish or pan with a knob of butter on each kipper and grill until the butter is melted and just beginning to go brown (only a very short time is needed).