4. MICHAEL LAMBERT AT SCHOOL AND UNIVERSITY
Michael Lambert (1912-1999), known as Mick or Mickie by his family, was the second son and youngest child of George Lambert MP and his wife Barbara Stavers. The education given to the two boys was quite different from that provided for their sisters. Like his elder brother George, Michael was sent as a boarder first to Summerfields preparatory school near Oxford and then to Harrow (to which he won a scholarship). The boys' father probably chose Harrow as it was the school of his political colleague and friend Winston Churchill. In later life, Michael said he disliked Harrow. But his surviving letters from there give no indication of this.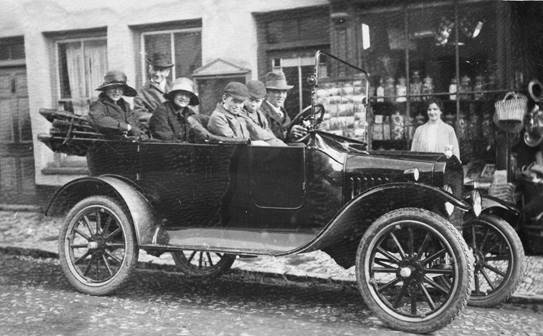 George with his four children and chauffeur in Model-T Ford
Letter 4.1. Michael Lambert at Harrow to his mother, 1 February (probably 1928 or 1929). She seems to have been at a health resort, probably Champneys, where she was a regular visitor.
Dearest Mother,
I am so glad you have found a friend of your own calibre! But I was very sorry to hear that you are not very well, but your letter sounded hopeful. …
I have just had a letter from Grace. … She was saying that your letters were more depressed and less numerous. I will tell her not to expect too much from a poor invalid; and that letter-writing is strictly against the regulations and has to be done illicitly, and the letters smuggled to the post.
She informed me the fat lady of 15 stone lives on the water vegetables have been boiled in. Is that true? Are you going to live on that? Will I when I am 50 have to live on it? Oh fie! I hope it does her good. …
George [his elder brother], as I hear, is apt to be a cause of disturbance in the local cinema with hens, etc.
Yesterday there was an address by Hilaire Belloc¹, the author, to a club called the '27 Club (formed in 1927). It is a club for the clever people in the school. Unfortunately, I had to attend a lecture for this corps exam.
Today there is a lecture by the first animal photographer, Cherry Kearton². I think it may be quite interesting. But if it is a film, I have an awful place, in the front and at the side.
I must end now.
Love from
Michael
¹ Hilaire Belloc (1870-1953), writer, historian and poet, best known for his "Cautionary Tales".
² Cherry Kearton (1871-1940), one of the world's first wildlife photographers and writers.
--------------------------------------------------------------
Letter 4.2. Michael Lambert at Harrow to his mother, 26 February 1928.
Dearest Mother,
I am hoping that you are having the same sunny weather as we are. Here it is mighty cold with occasional patches of cloud and even snow.
Last Thursday there was great excitement, as B.Mid had shot a wild goose. He was having its liver stewed. A faint niff of this smell was not unpleasant. But the d—d thing stank the whole house out! Luckily my room is as far as any from the kitchen, but it got a bit overniffy at times. Opening the window merely blew in the smell that was enshrouding the house. Luckily it did not last very long.
This term I have an unusual amount of work to do, as I have a corps exam. It is great fun taking, but entails an exceptional amount of extra work, three or four hours a week.
A horrible disease has broken out here, called the Burmese itch. It is a kind of ringworm and is something like impetigo. As you can guess from the name, it is common in the East. It comes from not washing and changing one's clothes. I think it is about the filthiest of skin diseases and very contagious.
Grace may be coming down today. She would have been for certain, but I could not ring up till this (Sunday) morning and then she had asked Nap [her boyfriend – see note to Letter 2.9] up. This means that both cannot come down without offending Victorian etiquette.
Grace told me that you all had to drink orange juice with straws and were not allowed in the dining room. I pity you who always liked your food so much and who was so fastidious about it. I am wondering how the sports costume is getting on. I am so glad you are happy and contented and not upset or disappointed in the place. I suppose it is a bit early to ask how you feel or if better. …
With tons of love from your loving son,
Michael.
----------------------------------------------------------------------------------
Michael's best friend both at school and at university was Lord David Douglas-Hamilton (1912-1944), the youngest son of the 13th Duke of Hamilton. All four of the Duke's sons were flying enthusiasts and joined the RAF; when war broke out, all four had already reached the rank of Squadron-Leader or above. Michael's friend David was killed during the war in a flying accident. The letter below describes a trip to stay with David's family at Dungavel Castle, the Duke of Hamilton's summer residence (now an immigration detention centre), when Michael and David were nearly 18.
Letter 4.3. Michael Lambert at Dungavel, Strathaven, Lanarkshire, to his mother, 15 April 1928
Dearest Mother,
… We drove up very happily on Thursday. The weather was delightful until we reached Yorkshire when we ran into a rainstorm that lasted the whole way up to here. The wind was dead against us across the Yorkshire moors and slowed us up a lot. Even so, counting two stops for meals, we took under twelve hours for the four hundred miles.
Geordie [the Duke's second son] was here when we arrived, but he left on Friday, when Douglo [the eldest son, Lord Douglas and Clydesdale - see note to Letter 1.31] came up for the weekend. His secretary Vivian Bell is also here, which makes us four altogether. David has got spots on his face and cannot shave. Coming up from Ferne [a Douglas-Hamilton property in Somerset] on Wednesday, he was stopped by a policeman, who flatly refused to believe that he was any one else but a motor-thief masquerading as Lord David Hamilton.
Everyone here is very pleased as Geordie has been made a squadron-leader in command of No. 603 auxiliary squadron of the Air Force. There are only two auxiliary squadrons in Scotland: Douglo commands one and Geordie the other. As they wear the Douglas tartan, the Hamiltons seem to have made a corner for themselves. As a matter of fact, there has been considerable criticism of what is considered their attempt at monopolising auxiliary squadrons.
The weather is dreadful, high winds and continual rain. But the house is very comfortable and I am getting a fairly satisfactory amount of work done.
Yours lovingly,
Michael
-------------------------------------------------------------------
Letter 4.4. Michael Lambert at Harrow to his mother at Champneys, 24 November, probably late 1920s
Dearest Mother,
Alas, what little news there is. My letter has at last been published and is as far as I can judge received with popularity. I am expecting a whole crop. I am sending a copy to Mrs M. [his sister Margaret] so that she may make some suggestions next holiday. I am looking for an authoritative statement from the Colonel. He is very unpopular. If he does write, he will be greeted with an enormous crop of scathing replies, from Bloods and Monitors downwards.
Yesterday we beat Rugby at Rugger very easily and they say they have the worst side since 1903!! Any excuse is better than none.
You should read André Maurois' Life of Disraeli. I think it would intrigue you immensely. It is a modern and more rational life than Moneypenny's. Also it is written in a charming style that is very homely and human. Then too it is not very down on Gladstone as most of these are.
I am in the middle of Lytton Strachey's Eminent Victorians. It gives the lives of Cardinal Manning, Florence Nightingale, Dr Arnold and General Gordon. I am most intrigued in reading how our Public School system was evolved nearly a century ago. Arnold became Headmaster of Rugby in 1935 when the Public School system badly needed reforming. So he based it on the Bible, just as the Children of Israel were governed in the Wilderness, by the patriarchal system which was just one remove from barbarism. It does not say much for the school if the only alteration since then has been to give an unwarranted importance to games!
I hope by now you are feeling better. I should certainly not leave Champneys until the end of the week. You can leave next Sunday, but I should stay over Saturday. On Sunday you can come back here and have tea!
I have heard nothing from Oxford. Daddy and Grace seem to be getting on very well without you, strange to say. I would not have thought it possible.
All my love,
Michael
----------------------------------------------------------
After spending some months in Germany and Spain to learn languages, Michael went up to Oxford in 1931 to read Politics, Economics and Philosophy. Only one letter survives from his time at Oxford.
Letter 4.5. Michael Lambert at New College, Oxford, to his sister Margaret (nicknamed "Mrs M.") at 35 Grosvenor Road (now Millbank, their parents' house), London SW1, 24 May 1932
Dear Mrs M.,
Have you read the papal Encyclical that was published a week ago? It does not seem to be very much in touch with affairs. It starts off by preaching rank socialism, attacking the capitalists who, few in number, have accumulated the wealth of the world in their hands and used it to exploit the masses. Happily, they are the first and most conspicuous victims of the depression. Then the atheists or communists have come along and exploited the depression for their own purposes. The Pope sees the real danger to the world in the communists and calls upon all nations to unite in warring against them.
Thus the Encyclical attacks the capitalists and the communists; while rejoicing in the fall of the one, it fulminates against the progress of the other. I cannot help feeling that a combined attack against the communists now would be disastrous. The only way of combating them seems to be assimilating whatever practical good there is in their doctrine and then challenging them in open competition. I doubt if even that would be really effective. The most effective way of stopping the spread of communism is to alleviate the depression. From the tone of the Encyclical, the Pope seems to favour some form of socialism.
It is curious how inconsequent the whole thing is. If the Catholic Church came out with some whole-hearted programme of practical cooperation, it would strengthen its position all over the world. Instead, it says: "Let these (the feast of the Sacred Heart of Jesus) be days of mortification and prayer. Let the faithful at least abstain from entertainment and amusement, however lawful". I would have thought the best thing to do now would be to have as much entertainment as possible, in order to restore confidence. Don't let those who are hit by the depression "suffer with greater resignation the privations imposed on them by these hard times and the state of society which Divine Providence, in an inscrutable but ever-loving plan, has assigned to them".
Communism cannot be combated by these fainéant methods, nor can the depression be overcome by verbose horrification at the spread of atheism. It is a great opportunity and a greater sin to let it pass.
I am enclosing the encyclical. Will you keep it for me?
Yours,
Mickie