PORK, HAM AND BACON
Pork Tagalog

Japanese Eintopf
Spiced pork with cabbage

Pork with Chinese leaves

Le saut

é de porc aux haricots rouges

Pö

rk

ö

lt
Spanish pork in almond sauce
Leek, bacon and bacon pie

Frankfurter and potato goulash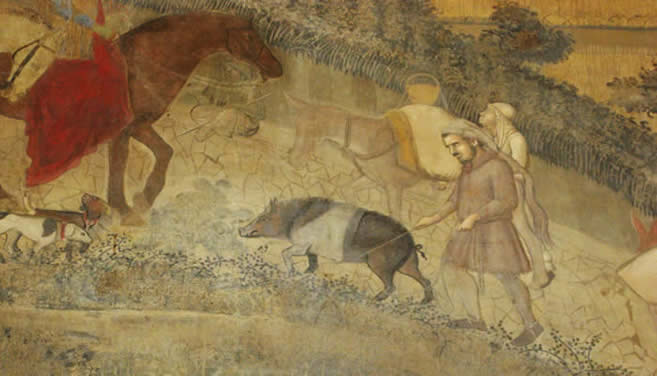 14th century Sienese pig-farmer (from Lorenzetti's Good Government)
PORK CHOPS

Pork chops are too often tough and hard. A good way of tenderising them is to brine them. For 4 chops, make a brine by boiling together for 5 minutes 3 litres water, 4 tablespoons of salt, 2 tablespoons of sugar, a teaspoon of peppercorns, a teaspoon of allspice berries or crushed juniper berries (or both), a dried chilli and 4 bay-leaves. Skim and cool. Soak the chops in the brine for 12 hours. Drain and pat dry on kitchen paper. They are then ready to cook.

PORK CHOPS WITH MUSTARD AND GRUYERE (for 2)

This French recipe is exceptionally quick and easy - the whole operation takes about 15 minutes.

2 pork chops (preferably brined)

4-6 tablespoons grated gruyère

1 teaspoon French mustard

1-2 tablespoons cream

salt, pepper, cooking oil

Trim the rind and excess fat from the chops. Fry gently in oil until done. Season with salt and pepper. Mix together the gruyère, mustard and cream to form a paste. Put the chops in a grill-proof dish and spread them with the paste. Grill until just beginning to go brown.

PORK CHOPS WITH MAPLE SYRUP (for 2)

This is a slight adaptation of a rather good recipe I found in the Guardian; I cannot remember who the author was.

2 pork chops (preferably brined)

2 tsp paprika, preferably smoked

2 tbsp maple syrup

1-2 tbsp mayonnaise (ready-made will do)

½-1 tbsp grain mustard

salt, sunflower or other light cooking oil

Combine together the paprika, maple syrup and one tablespoon of oil and marinade the pork chops in this mixture in the fridge for an hour. Gently fry the pork chops on both sides in a little oil, taking care that they do not blacken. Transfer to an oven pre-heated to 140º/gas mark 1 and roast for 25 minutes. Mix the mayonnaise and mustard together. Serve the chops with the mayonnaise sauce and some spring greens.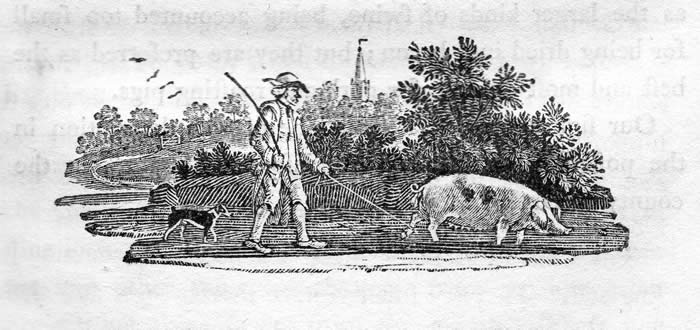 18th century English pig-farmer
**************************************
SPARE RIBS IN BARBECUE SAUCE (for 2)

1½ lb/1.3kg spare ribs in a sheet

1 onion, peeled and finely chopped

1½ tablespoons light cooking oil

1-2 cloves garlic, peeled and chopped

2 fluid oz/60ml water

2 tablespoons cider vinegar

1 tablespoon lemon juice

1 dessertspoon prepared mustard

1 tablespoon honey (use a hot tablespoon)

1 tablespoon tomato puree

1 tablespoon Worcestershire sauce

1 pinch cayenne pepper or chili powder

1 clove

1 large pinch dried thyme

Soften the onion and garlic in the oil without colouring. Add all the other ingredients except the spare ribs, and simmer, covered, for 10 minutes. Paint the spare ribs with half of the mixture, and grill gently for about 40 minutes, adding more sauce and turning them from time to time. Alternatively, roast them in the oven for 40 minutes at gas mark 7/220° C, again adding more sauce from time to time.

**********************************************

PORK TAGALOG (for 2)

1 small pork tenderloin (fillet)

1 onion, peeled and thinly sliced

1 tablespoon soy sauce

juice of 1 lime

1 dessertspoon soft brown sugar

light cooking oil, pepper

Cut the pork into 2 cm pieces, trimming off any fat. Place in a dish with a few slices of the onion. Mix together the soy sauce, lime juice, sugar and pepper and pour this mixture over the meat. Leave it to marinade for an hour or two, turning occasionally. Half soften the remaining onion slices in the oil. Drain the meat and dry it with kitchen towels. Add it to the half softened onion and fry gently until the meat is cooked. Add the marinade and a tablespoon or so of water. Bring briefly to the boil, scraping any caramelised residue from the bottom of the pan. Serve with basmati rice.

A decorative way of serving the rice is to soften some finely chopped garlic cloves in a little oil and then pour the oil and garlic mixture into two tumblers or teacups. Press the hot cooked rice down on top and turn out onto heated plates with the pork arranged alongside.

I call this an Eintopf as the meat, potatoes and vegetables are all together in a single dish.

1 small pork tenderloin, sliced very thinly

200-250gr peas (eg frozen petits pois)

250gr waxy potatoes, eg charlottes

3 tablespoons dry sherry

3 tablespoons soy sauce

1-2 onions, peeled and thickly sliced

1 level tbsp sugar

light cooking oil

Boil the potatoes until just cooked. Peel and cut into 1 cm chunks. Heat the oil in a small frying pan or wok and throw in the pork and onions. Stir-fry briskly for a couple of minutes or until the pork is coloured. Pour over enough water to cover and cook for a few more minutes. Stir in the soy sauce, sherry and sugar and simmer uncovered for 20 minutes, reducing the liquid by about half. Add the peas and potatoes, cook for a few more minutes and serve.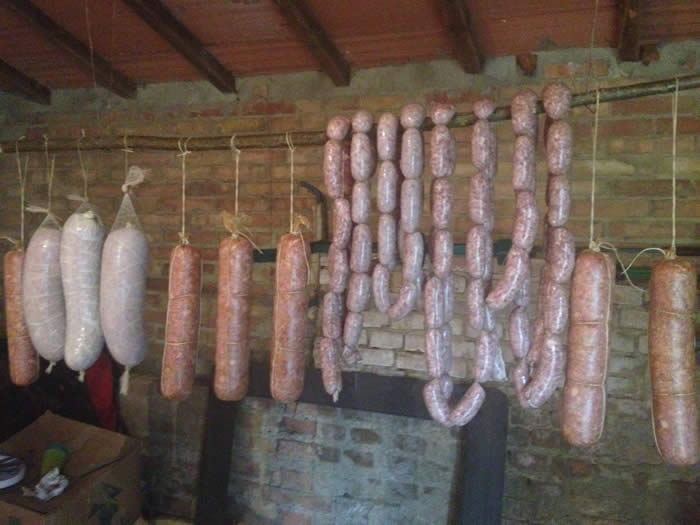 Freshly made salami and sausages from Colin's pigs
********************************************
Many of these recipes use pork belly, which gives a particularly unctuous stew.

SPICED PORK WITH CABBAGE (for 2)

This rather odd recipe appeared in Harpers Bazaar sometime in the 1950s or 1960s. It makes a very good warming winter dish of a rustic kind.

1 lb/400gr belly of pork, boned and derinded

1½-2 lb/600-800gr white cabbage

2 teaspoons mustard powder (e.g. Colmans)

1 teaspoon peppercorns, lightly crushed

3 tablespoons goose or duck fat or light cooking oil

salt

Cut the pork belly into 1 in/2-3 cm chunks. Brown rapidly in a saucepan with one tablespoon of fat or oil, stirring. Turn down the heat, cover the saucepan and cook very gently for 20-30 minutes. Meanwhile, finely slice the cabbage, discarding the central stem, and brown gently in another saucepan with two tablespoons of fat or oil for 20 minutes or so. Pour any excess fat from the pork saucepan and add the mustard, peppercorns and a few tablebspoons of water. Put the browned cabbage on top, cover and cook gently for one hour, stirring occasionally and adding a little more water if it starts to burn. Add salt to taste and serve.

PORK WITH CHINESE CABBAGE (for 4)

1 lb/450gr minced pork

¼ lb/150gr streaky bacon, derinded and finely chopped

1 onion, peeled and finely chopped

3 large garlic cloves, peeled and finely chopped

1 Chinese cabbage (Chinese leaves), approx 2lb/800gr

1 red chilli, deseeded and finely chopped (optional)

salt, pepper, thyme (preferably fresh), parsley, olive oil

Mix together the pork, bacon, onion and garlic, together with the chilli if a spicy effect is desired. Cook gently in a little olive oil until the meat is lightly coloured. Season very generously with salt, pepper, thyme and chopped parsley. Shred the Chinese cabbage and stir-fry in a little olive oil for 4-5 minutes. Put half the cabbage in the bottom of an oven-proof dish. Add the pork, and then the rest of the cabbage on top. Press the mixture well down and cover the dish with a lid or foil. Cook in an oven pre-heated to gas mark 3/160° C for 1½ hours.

LE SAUTÉ DE PORC AUX HARICOTS ROUGES (for 4)

300gr dried red beans, soaked for 8 hours

2 onions, peeled and roughly chopped

2 carrots, peeled and chopped

2 sticks celery, chopped

400gr belly of pork, rind and bone removed, and cut into 3 cm pieces

400gr smoked pork sausage (e.g. Mattessons)

1-2 tablespoons flour

2 tablespoons tomato purée

1 litre stock

thyme, bay-leaf, parsley, salt, pepper, olive oil

Put the beans in a large saucepan and cover generously with water. Bring to the boil and boil fiercely for 10 minutes. Drain the beans and discard the water. Soften the onion, carrots and celery in some oil without browning. Add the pork and brown it on all sides. Pour off some of the fat if there is a lot. Stir in the flour to make a roux. Gradually stir in the tomato purée and then the stock, herbs, salt and pepper. Simmer gently for half an hour, stirring occasionally. Add the beans, and if necessary some water so that they are well covered. Cook covered for 1½ hours or until the beans are done, scraping the bottom occasionally as – because of the flour – the stew tends to stick (if possible use a saucepan with a non-stick coating). Poach the smoked sausage for 10 minutes (or follow instructions on the package). Roughly chop it, add it to the stew and serve.

A typical Hungarian stew.

2 lb/900gr diced pork (belly is good for this)

150gr or 2-4 rashers of streaky bacon, diced

2 medium onions, peeled and chopped

1 tablespoon Hungarian paprika

200-250gr peeled plum tomatoes, roughly chopped

200ml stock

1 tablespoon flour (optional)

120-150ml soured cream

light cooking oil, salt

Take an oven-proof dish, and cook the bacon and onions slowly in some oil, until the onions are very soft and just beginning to brown (20 minutes). In a separate frying pan, brown the pork briefly on all sides with a little oil, and then add it to the onion-bacon mix. Stir in the paprika, tomatoes, stock and salt to taste. Bring to a simmer, cover the dish tightly with foil and a lid and cook for 2 hours (or until the meat is tender enough to be broken with a wooden spoon) in an oven pre-heated to 130-140° C/gas mark 1. Skim off surplus fat with kitchen paper, reheat briefly on top of the cooker and stir in the soured cream mixed with the flour (the flour is not necessary but gives a thicker sauce).

SPANISH PORK IN ALMOND SAUCE (for 2)

This excellent recipe is a slight adaptation of one that was published in the Guardian in 2004, but I fear I do not know the author.

400-500gr diced pork

2-3 tablespoons flaked almonds

1 smallish slice white bread, crusts removed

½ head of garlic

2 garlic cloves, peeled and roughly chopped

½-1 teaspoon Spanish smoked paprika

1 smallish onion, peeled and halved

1 dessertspoon tomato purée

1 bay-leaf

150-200ml white wine

salt, pepper, olive oil

Cut the bread into small cubes. Fry the almonds and bread in a generous amount of olive oil until golden. Remove and keep. Add the pork to the oil and fry until coloured. Add the onion, tomato purée, bay-leaf, white wine, the half head of garlic (sliced in half widthwise) and paprika. Simmer, covered, for 50-60 minutes. Remove the garlic head and discard it (or squeeze the flesh into the stew). Remove the onion and put it, the bread, almonds and chopped garlic cloves into a food processor with most of the cooking liquor. Process briefly until chunkily chopped and add to the meat. Simmer very gently, preferably in a non-stick pan, for a further 20-30 minutes. The sauce should be like double cream.

*********************************************

SICHUAN TWICE-COOKED PORK (for 2)

This is adapted from one of Fuchsia Dunlop's wonderful Chinese recipes in her book "Shark's fin and Sichuan pepper", one of the best books about food that I have read. The pork can be given its first cooking well in advance; the second cooking can then be done very quickly once the ingredients are assembled.

300gr pork belly in strips, rind and bones removed

½ bunch spring onions

1 large tablespoon chilli bean paste (a little harissa might be an acceptable substitute)

2 teaspoon fermented black beans

1 teaspoon dark soy sauce

1 teaspoon white sugar

cooking oil, salt

Simmer the pork belly for 1 hour in water and cool (this can be done well in advance). When it is completely cold, slice the pork belly thinly (it is easier to slice when cold). Trim the spring onions and cut into diagonal slices. Heat some oil in a wok and stir fry the pork for a few minutes without letting it burn and become hard. Push the pork to one side and add the chilli bean paste to the oil. Fry it until it until it is richly red. Add the beans and stir-fry another half minute. Mix everything in the wok together, and add the spring onions, soy sauce, sugar and a couple of tablespoons of water. Cook stirring for another minute and serve with rice.

TWICE-COOKED PORK WITH PLUM SAUCE (for 8)

This needs to be prepared a day or preferably two in advance, but the last minute cooking only takes a few minutes. It is adapted from a recipe in Jonny Houghton's Cooking without fuss.

8 lb/3.5-4kg belly of pork in a piece with its bones and (scored) rind

salt, pepper, cooking oil

1 in/2.5cm piece of ginger root, peeled and grated

4 garlic cloves peeled and pounded or put through a garlic squeezer

5 tbsp light soy sauce

3 tbsp dry sherry

2 tbsp clear honey

5 tbsp orange juice

Salt, generously pepper and lightly oil the pork. Roast skin-side down for 20 minutes in the oven pre-heated to its highest setting. Turn down to 160º C/gas mark 3 and roast skin-side up for a further 90 minutes. Leave to cool. Remove the rind and bones. Cut into 2 cm slices. Marinade these in the other ingredients for 24-48 hours. When ready to eat, scrape off the marinade and lightly oil the slices. Grill on both sides until browning. Serve with plum sauce.

Plum sauce

This can be prepared in advance and freezes well.

2 lb plums

8 cloves garlic, peeled and chopped

10 cm ginger root, peeled and grated

4 star anise

4-6 tablespoons soft brown sugar

salt, pepper, chilli powder, soy sauce

Stone and roughly cut up the plums. Cook with a little bit of water, the ginger, garlic, star anise, a pinch of chilli and the sugar, until the plums are soft and disintegrating. Add soy sauce and more sugar to taste as necessary; and discard the star anise. Process or liquidise and serve hot or cold.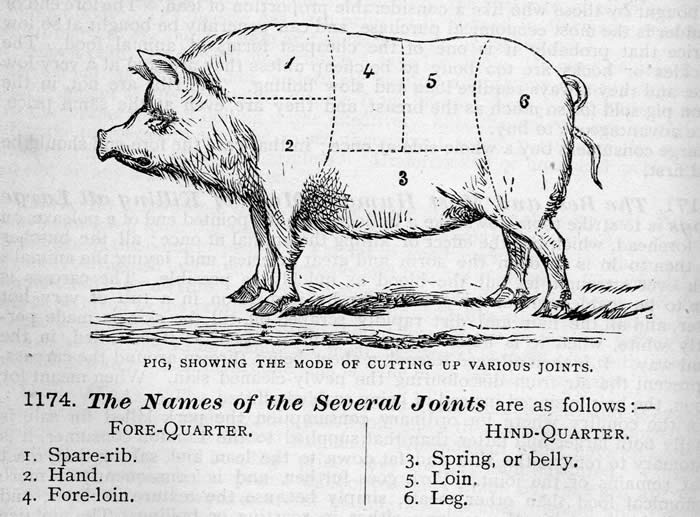 From Mrs Beeton's Household Management 1893.
**********************************************
There was a Boy whose name was Jim;
His friends were very good to him.
They gave him Tea, and Cakes, and Jam,
And slices of delicious Ham,
And Chocolate with pink inside.
(Hilaire Belloc)
ENDIVES AU JAMBON GRATINÉES (for 2)

A dish from Northern France

2 chicory heads

1 tablespoon butter

1 tablespoon flour

4 thin slices ham

200ml milk

100gr gruyère or emmental, grated

French mustard, salt, pepper, nutmeg

Cook the chicory heads in simmering water for about 15 minutes. Drain well and cut each head in half lengthwise. Wrap each half chicory in a slice of ham spread with mustard on the inside. Arrange in a gratin dish in which they fit neatly in one layer. Make a thickish white sauce with the remaining tablespoon of butter, the flour and milk, seasoning with salt, pepper and grated nutmeg. Pour the sauce over the chicory and sprinkle the grated cheese over the top. Cook for about 20 minutes in a hottish oven, until the cheese topping is brown, or brown under the grill.

This French recipe is ideal when one is in a hurry, as it only takes about 5 minutes to make.

2 very thick slices of good quality ham (no 4 on the shop slicer)

1 dessertspoon concentrated tomato puree (from a tube)

2 tablespoons brandy

3-4 tablespoon single cream

1 tablespoon butter

Melt the butter in a large frying-pan, add the ham and gently warm through on both sides. Arrange on heated plates. Add the tomato puree and brandy to the pan, and stir until amalgamated, over a gentle heat. Stir in the cream and heat until beginning to bubble. Pour over the ham and serve.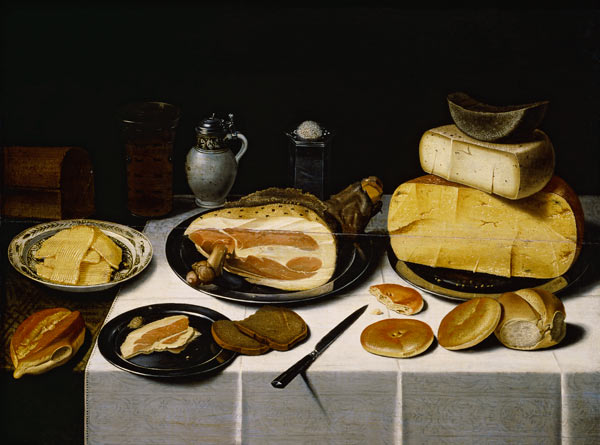 Floris van Schooten (c.1590-1656)
*******************************************
Thence home, and at my business till late at night, then with my wife into the garden and there sang with Mercer, whom I feel myself begin to love too much by handling of her breasts in a' morning when she dresses me, they being the finest that ever I saw in my life, that is the truth of it. So home and to supper with beans and bacon and to bed.

Pepys' diary, 19 June 1666

LEEK, BACON AND POTATO PIE (for 4)

This recipe was contributed to the staff magazine by a member of staff of the short-lived Department of Environment, Transport and the Regions.

4 leeks, white part sliced into 1 cm chunks

2 onions, peeled and chopped

2lb/800gr potatoes, peeled

200-250gr bacon, derinded and cut into thin strips

5 oz/150ml single cream

salt, pepper, olive oil, dried herbs

Boil the potatoes until just cooked, drain and reserve the water. Cut the potatoes into slices. Fry together the leeks, onion and bacon in some olive oil until soft and beginning to brown. Layer the potatoes and leek-bacon mixture in an oven-proof dish, sprinkling salt (not too much), pepper and dried herbs on top of each layer. Begin and finish with a layer of potatoes. Just cover with some of the potato water. Cook for about 40 minutes in an oven pre-heated to gas mark 7/220° C. Remove from oven when potatoes start looking nice and crisp. Pour the cream over the top, letting it trickle down. Return to oven for another 10 minutes and serve with a salad.

FRANKFURTER AND POTATO GOULASH (for 2)

This has a distinctly Hungarian taste, with the paprika and caraway, although whether they do cook anything like it in Hungary I do not know..

2 rashers streaky bacon, derinded and cut into strips

300-400gr new or waxy potatoes (eg Charlotte), peeled and cut into 2 cm pieces

1-2 onions, peeled and sliced

1 teaspoon paprika

½ teaspoon caraway seeds

3-6 frankfurters, cut into 2 cm pieces

150ml chicken stock or water

goose or other fat or oil, salt, pepper

chopped parsley

1-2 tablespoon soured cream

Fry the bacon and onions in the fat until going golden, stirring frequently. Stir in the paprika and caraway. Add the frankfurters, potatoes and stock or water. Simmer covered for 25-30 minutes, until potatoes are cooked and most of the liquid is absorbed (add more liquid if it gets too dry before the potatoes are cooked). Add salt and pepper to taste (it should not need much salt). Serve with dollops of sour cream and sprinkled with chopped parsley.