11. SOPHIA IN PARIS 1960-63
When she had done her A-levels at the age of 17, Sophia went to Paris for a year to learn French. She arrived there in October 1960 and eventually stayed for three years. She spent the first few weeks staying with a French family as part of an exchange visit (their daughter had stayed with the Lamberts in London in the summer). The parents were called Yvan and Monique Delage de Luget. They were of minor and impoverished aristocratic lineage and pious Catholics. There were four children (the oldest about 16) and the family lived in a cramped flat near the Champ de Mars. They had baths once a week, half the family on Saturday evening and half on Sunday morning, heating the water especially for the occasion. Although they pressed Sophia to have a bath whenever she liked, as she was English and it was known that the English were keen on washing, she never dared ask them to heat the water at other times. Meals were the opposite of copious: yoghurt, for instance, was served in half-pots.
The de Lugets had an old aunt, the Marquise Marquise de Cacqueray, who owned a castle, the Château de Pouy-sur-Vannes in the Champagne-Ardenne region, which they took Sophia to visit. They had hopes of inheriting it, and Madame de Luget had dreams of marrying her eldest daughter (Bénédicte, then aged about 15) from it. In the event, the Marqise unexpectedly bequeathed it to the Société d'Entraide de la Légion d'Honneur, a charity for military families. It is now a hotel and event centre for members of the Légion d'Honneur.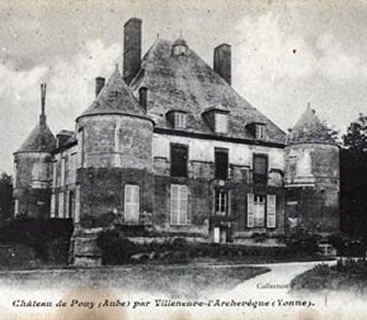 Old postcard of the Chateau de Pouy
Letter 11.1. Sophia Lambert at 40 Avenue de Suffren, Paris 14ème, to Florence Lambert at 2 Aubrey Road, 2 November 1960
… We arrived at the de Lugets' castle about 7 o'clock on Saturday evening after a three-hour drive through rain and wind. The car was packed with every sort of provision, boots and games and sheets with the maid hovering around helping, just like us off for a weekend in Devon, and I really don't know how we managed to fit it all in.
But we needed it all, as living was very primitive and uncomfortable, worse than Coffins in the old days. We stepped out of the car into the sort of dark wet gale that I always associate with Falkedon, and into a very smoky but warm living-room, with a huge wood fire that smoked abominably, lit by the people who live in the other half of the cottage. It was quite a small room, but high, the height of the house, with stairs going up one wall to the bedrooms beyond, over a part of the house not inhabited by us. An extraordinary mixture of furniture, a round table and chairs of either wicker or oak, an oak dresser or sideboard, and two padded armchairs with broken springs by the fire, covered in ragged doggy rugs. There was a picture of Napoleon over the door. Also hanging on the walls were a couple of Chinese brocady pictures, an assortment of guns, mostly airguns, keys, antlers, animal's feet and other assorted bits. It was generally extremely untidy but had great charm, especially for me, and I felt very much at home.
There was another stove upstairs which kept the bedrooms beautifully warm and which also provided most of our hot water from a kettle on top, which I was constantly running up and down stairs replenishing. There was another kettle on the fire downstairs, but people kept forgetting to put another log on the fire and it kept going out, so that was not so effective. I kept coming in to find a few glowing embers and would have to pile it with faggots and work madly with the bellows. But I think it did not once actually go right out.
My bedroom was the Aunt's room (she was away somewhere), beautifully warm because the stove was just outside and the wall by my bed was quite hot. Anyway, it was full of knick-knacks and photographs. All the beds were very makeshift, and the boys slept on inflated rubber lilos. Also upstairs was the room that served as a bathroom, with a fascinating selection of baths of different shapes, standing in corners, and of course the usual buckets and jugs and basins. There was even a tap in the wall, but I don't think it worked.
For cooking, we had a little calor gas thing with a ring on top. The kitchen was very small, and what made the whole place really uncomfortable was the fact that it was the Aunt's house and all the cupboards and drawers were full of her things and there was nowhere to put anything, so every single provision for the whole weekend had to be laid out on the very small kitchen table.
There was also an old man who lived in a room at the back – he was either a cousin or a gamekeeper, I never discovered which but I think both – anyway, he wandered in and out at the oddest hours with his dog. He would come in about 9.30 in the evening, have a cup of coffee and talk a bit, then at about eleven he would go out and not come in again until about four in the morning. Apparently, even when he is in Paris he goes out at about midnight with his dog and a torch and walks the streets of Paris till three in the morning, shining his torch on the ground, and all the policemen think he is mad.
French drying-up cloths are impossible too, they are like pieces of gabardine – after you have dried half a dozen plates with them, they are just as dry and the plates just as wet and twice as smeary.
The castle is most impressive, enchanting and enchanted, with a beautifully romantic moat flowing round it, beneath the mossy arches of four bridges, one for each door of the castle, which is square. There are even gold-fish.
On the second day, an enormous key was produced, and we had a formal looking-over of the castle. It has a tremendous atmosphere about it, silent and peaceful, anciently solid and impregnable, very remote from today's busy world with the silent waters of the moat eternally lapping its walls. It was very strange to see water out of every window.
The rooms were furnished with grand if valueless furniture, massive oak tables, decaying brocade sofas, beautifully inlaid cabinets that had become warped and peeling with the damp, and tattered lace curtains. The shutters were half-closed, so everything was seen in a kind of semi-darkness, green from the waters of the moat.
There was an enormous billiard room, complete with table, balls, sticks and scoreboard, all dust-sheeted and decaying. Each of the four towers consists of little round bedrooms, one on top of the other, with beds in curtained alcoves, with all their original coverings and tassels. One could just see the ladies of pre-revolutionary times receiving their gentlemen friends in their boudoirs. It was just like something in a play or a film, and it seemed impossible that someone could actually live there today. The castle had been wired for electricity and the electric light fittings looked peculiarly incongruous. But how I should love to have a bed in an alcove. Too romantic to be true, and too inviting.
There were, I think, four floors. The ground floor was all kitchens and cellars, empty and dark except for odd piles of old bottles left by the Germans [billeted in the château] in the war, and almost mossy with damp.
You ascend a big, wide, staircase to the first floor, and then on up. The bedrooms have huge beds, whose bed-clothes are falling apart with damp. And the servants have tiny little rooms in the side of the roof, which is very steep and high. I climbed a forty-foot ladder op to the pigeon-cot at the top and had a beautiful view of the countryside. For days afterwards, they kept asking me if I felt any ill effects. They also thought I was going to come up in spots because I picked up a toad. The ladder had 65 steps, so Mme de Luget told me, so I suppose it was nearer 65 feet. Anyway, the sides were made out of one single tree-trunk with no joins. The roof, very full of holes with slates (it is a slate roof) falling off everywhere, is held up by a network of beams.
The only things of value left in the castle by the Germans are some clocks, Empire period, golden figures of Mercury holding clock-faces, etc., in glass cases. Otherwise, everything is falling to pieces and it is in its present state absolutely uninhabitable. It must be tantalising to be living just outside it and see everything slowly decaying and not be able to do anything about it. It could be so magnificent, and so out-of-this-world to live in. Mme de Luget says that if whoever-it-is dies soon, she may just have it habitable for Bénédicte's wedding, and I really hope she does. …
---------------------------------------------------------
After leaving the de Lugets, Sophia lodged for a few months in the flat of a glamorous whisky-loving divorcee called Claire de Hatvany (French, although her elderly art historian ex-husband, with whom she was on good terms, was Hungarian), who had been recommended by Sandra Devaux, a friend of the Macaskies who lived in Paris. During the time that Sophia was lodging with her, Madame de Hatvany was writing a novel called Solitude à trois that was published by La Table Ronde in 1961. Unusually for Paris, Mme de Hatvany lived on the top floor of what was a real house rather than in a block of flats.
Letter 11.2. Sophia Lambert, 40 Avenue Suffren to Florence Lambert at 2 Aubrey Road, 10 November 1960
Dear Mummy,
Thank you for your letters. I am moving into Mme de Hatvany's on Sunday. Yesterday, Sandra¹ came and whisked me off to see her at her very amusing house. It has a garden and wall all around it and is just next to the Bois de Boulogne. My room is very luxurious, with an enormous bed and a telephone – it was her daughter's (she has two, both now married) – and the bathroom is all black with a sunken marble bath. The only other room, practically, is a simply vast bed-sitting-room, with a sort of dome or cupola in the ceiling, and the biggest bed I have ever seen. Mme de Hatvany seems very nice. Apparently she spends her time writing highly complicated psychological novels sprawled on the bed. There are also a couple of life-size golden statues on either side of it. …
Poor Mme de Luget was very worried lest I be moving into a den of vice, and Sandra said I had better reassure her that it wasn't a brothel after I had seen Mme de Hatvany. She [Mme de Luget] absolutely overwhelmed Sandra with floods of words when she came to fetch me, and left her quite breathless.
The whole time we were at Mme de Hatvany's she sat there eying me with a curious half-smile on her face, as if I were a new possession that she had just acquired with great difficulty at an auction sale. …
¹ Sandra Devaux was the only child of the Macaskies' long-time friends Ernst and Irmgart Devaux and was working as an interpreter at the Western Europen Union. She was single and in her late thirties, had the reputation in the family of being very chic and Parisian and rather fast, openly taking lovers. She was at that time having an affaire with a rathe louche French prince, considerably older than herself.
-------------------------------------------------------
Letter 11.3. Sophia Lambert at 44 rue Pierre Guérin, Paris 16ème to Florence Lambert at 2 Aubrey Road, 17 November 1960
… I had never seen Sandra before within memory before now, and she seemed much less smart than I had been led to believe. Last time I saw her, she even looked rather shapelessly baggy and English.
She and Mme de Hatvany rush into each other's arms every time they see each other and exchange all their latest gossips. All their friends seem to be Princes and Princesses. We've got Prince Yusopoff who had such difficulty killing Rasputin just down the road.
Mme H. gives the impression of being tall, a good figure, regular and what I call strong features, high cheekbones and dyed yellow hair in a chignon, a slight bridge to her nose, a strong chin and hollow eyes. Maybe that is just her lack of sleep. She has two married daughters in their early twenties called Zazie and Babette. Her husband apparently is much older than her – she is 43 or thereabouts – so I suppose that, like Sandra, she fell in love with a middle-aged man when she was very young, but she married him. He is an art historian and will show me round the Louvre. She is slightly reminiscent of Col-Clo¹, and describes herself as a vieille bohémienne, but unlike Clo-Clo, I always get the impression she is very aware of being bohemian. She greets you as you come in the front door by leaning over the banisters at the top of the house. She is a marvellous cook and I have lunch in every day. But the kitchen is in a permanent state of chaos, dirty plates piled untidily in the sink for the Swiss maid, little plates with delicious leftovers on them, knives, trays, spices – she puts lots of spices and vinegar into everything – bottles of this and that, saucepans, there is never anywhere to put anything down, and you have to be careful you are not stepping on anything. The groceries overflow from a box or a basket under the stairs in one corner. In there also is the only clock in the house, a very old alarm clock.
The bathroom, which has three doors and is a veritable passage, is also littered with odd clothes and there is an enormous selection of dressing gowns round the walls. The whole place is full of mirrors, and every time I go in and see myself I start, thinking I have disturbed somebody in the bath. She also keeps her make-up and things in there, powder puffs and bits of dirty cotton wool and hairpins everywhere, and lots of Dior scent, Miss Dior and Diorissimo [then the ultra fashionable scents].
I don't see very much of her and don't get nearly as much conversation as at the de Lugets. She dismisses me very quickly after lunch so that she can work – she lies on her bed the whole time and writes – and she goes out practically every night and is never up before I leave the house. As the dining room is also the sitting room and her bedroom, I can't have my breakfast in there, and she said it would be less triste if I had it in the bathroom rather than the kitchen, so I have to get up every morning in a seemingly empty flat, very much somebody else's, and get my breakfast in a messy kitchen and eat it in a bathroom full of things hurriedly left after getting ready for last night's party. You've no idea how depressing it is.
She talks rather fast and drops her voice at the end of sentences, so I find her very difficult to understand, and she always utters exasperated sighs when I make not understanding noises. …
¹ Clothilde (Clo-Clo) Peploe, née Brewster (1915-1997) was an artist and a close friend of Florence's.
---------------------------------------------------
Letter 11.4. Sophia Lambert at 44 rue Pierre Guérin to Florence Lambert at 2 Aubrey Road, 24 November 1960
…The chaotic kitchen has advantages. For instance, there are always plenty of inviting bits and pieces lying around, bowls of pistaches and boxes of dates. … I should hate to have my breakfast in my bedroom. Breakfast isn't a meal one should eat by oneself in Rooms [not a view shared by Florence, who always had her breakfast in bed]. If you have to have it by yourself, it should be hidden away from the living part of the house.
I went and had supper with the de Lugets, returned a key I had taken by mistake and collected a shirt and stocking I had forgotten (I did write her a thank-you letter, and yesterday gave Mme de Hatvany some flowers, it being her birthday, so rest assured that I am trying to remember all my duties). Madame de Luget was making Bénédicte her first straight skirt [as opposed to the flared or pleated skirts worn by children] and M. de Luget was expounding on the subject of straight skirts, coquetterie, nail varnish, stiletto heels and the disgraceful way young girls dressed now. I told him that Caelia at fourteen had begun wearing all the above, and my father had never even noticed, so he said that one day Bénédicte had come in with nail varnish and HE soon noticed and sent her post-haste to take it off. So Mme de Luget and I began to tell him that men never understood these things. …
The flat here is choc-à-bloc with flowers, some of them absolutely beautiful, that were delivered throughout yesterday and the evening for Mme H.'s birthday. There are camellias in the bidet and cyclamens in the sink.
They literally never drink anything but whisky in this milieu, so you have to take it or leave it. I take it. But I hope Daddy will be pleased to hear there is no gin.
Sandra's new friend whom she is going around with at the moment is very tall and distinguished-looking with silver-grey hair, a little moustache, very attractive with rather slit twinkling eyes and a permanently amused expression on his face. It reminds me of you and Daddy the way they exchange secret glances while talking to different people at parties. I think his name is Jean, but I'm not sure. His English is just about equivalent to my French, so we always answer each other in different tongues.
Mme H. gave the party for her English-speaking friends last Friday. Among others, Sandra and her friend came, and some old Princess, I think she was, called Maureen, who called everybody "sweetie", and Mme H.'s niece who speaks English better than French, and she brought typical ex-military Englishman in Paris on business for two days, who was too English to be true and everybody was in fits of laughter at everything he said. We started to discuss the particular delirium tremens of different alcohols, and he seemed to think I was somewhere in my mid-twenties, because he said he knew a young English girl in Paris going out only with English and learning no French, and he would be grateful if I were to take her under my wing and introduce her to some of my French friends. "The only trouble is that she is so YOUNG, you know, only sixteen or seventeen." If I'm not careful, I shall have quite a collection of jeanes filles anglaises and nobody to introduce them to.
With love,
Sophia
-------------------------------------------------------
Letter 11.5. Sophia Lambert at 44 rue Pierre Guérin to Florence Lambert at 2 Aubrey Road, 1 December 1960
We went to lunch with Mme de Luget's parents on the 11 November, the national holiday, or at least Mme de Luget and the two girls and I did. M. de Luget took the boys to visit his father who lives miles away in the direction of somewhere like Alsace-Lorraine all by himself, and on the way back the gearbox of the car bust, so they were stranded and eventually got back by train in the middle of the night.
Mme de Luget's mother is a remarkably active little woman. Her father is a writer mainly on religion and its relationship to politics. He was very intelligent and we talked politics. The last book he wrote, he got a letter from de Gaulle which he showed us. "Just like a king's of ancient times", it was not printed but written in his own hand, even the envelope, which was perfectly ordinary with an ordinary stamp, the post-mark that of the village near his country residence, and the note-paper had as sole printed heading "Le Général de Gaulle". …
Mme Hatvany had a party of about twenty people on Monday connected with the publishing of her book, you know, to butter them up. They were of course all much older than me, but it was fascinating to watch them. They seemed to consist entirely of princesses and pansies. There were about five princesses, most of them fearfully old-maidish, chain-smoking from gold cigarette cases and covered in modernistic beads. There is one younger and very elegant one, all dressed by Chanel, but she can't do anything without her husband's permission and has to be ready when the Rolls comes to collect her at 11 o'clock. What a life for a woman of 30-odd.
As for the pansies, they were too funny. You see, there is this enormous bed in the main living room, and most of the time there were seven of them all sprawled on this bed. It looked like some kind of orgy. And there was one fille who launched herself into the midst of them, right in the middle of the bed, and kept putting her arms round them. They would surge away like waves when she turned on them. Sandra said it looked just like some picture, but I forget which.
------------------------------------------------
During her three years in Paris, Sophia moved between four very distinct social circles. First, there were the old-fashioned Catholic aristocracy (represented by the de Lugets and later the de Boyssons) to whom she had been given introductions through members of Florence's family. Second, there were the fringes of French high society and the intellectual world (represented by Mme de Hatvany and her friends). Third, there was the expatriate English community, including the shifting population of young people spending a few months in Paris to learn French. Finally, there was the French student community of the Quartier Latin, with whom Sophia spent most of her time in her final two years.
The vicar of the English church in Paris used to give a tea-party every Sunday for young English people living in Paris. This was popular among upper class young people in Paris to learn French during their gap year before university (the boys) or before doing a season as a debutante (the girls).
Letter 11.6. Sophia Lambert at 44 rue Pierre Guérin to Florence Lambert at 2 Aubrey Road, 8 December 1960
… Now, the Vicar's tea party. Well, this nice girl Gail told me about it. There were about forty people and everybody stood around drinking cups of tea and eating bits of cake. Well, it's bad enough holding a glass and handbag and taking tit-bits at a cocktail party, but a tea-cup and saucer and cake… I sat down and made the people I was talking to sit on the floor. Everybody seems to sit on the floor in Paris anyway.
Of the forty people, thirty were "nice English girls". Not even the cosmopolitan or arty kind of deb that I was at school with. It was extraordinary to see them all in their twin-sets, pink and white complexions (I suppose I shouldn't talk – I was very cross when somebody the other day said I had an English complexion, I nearly answered in broad American), and their uniformly short curly hair, pink or red lipstick and no eye make-up and not a single beehive [the then fashionable hairdo]. My goodness, they all looked dull. ... The other ten people were deb's delights. There was the usual selection of puffy, spotty ones, dull as ditchwater; the odd provincial (New Zealandish or Irish); one intelligent one five foot high with glasses who looked like a schoolboy two forms ahead of his age; and the rest were the out-for-a-good-time-without-any-morals-type. … I must say I don't think much of the English population of Paris from what I've seen. I suppose the intelligent ones are hiding away somewhere. …
Thursday evening I went to a concert Mme H. had been given a ticket for but couldn't go, a fearfully fashionable charity sort of thing, music in a church with the most awful soloists, at Les Halles of all places [Les Halles in those days was still the wholesale fruit and vegetable market of Paris, and in a very run-down area]. As the metro drew near, the smell of garlic began to be replaced by Dior scent and fur coats appeared everywhere. There were well over a thousand people and the seating – typical churches – was absolutely chaos. I had to report it back to Mme H. so that she could pretend to her friend that she had been.
With love,
Sophia
------------------------------------------------------
General de Gaulle had come to power in 1958 with the support of the Army who believed he would support "Algérie française"(there had been long-running civil unrest in Algeria). But by 1960 he was convinced that Algeria had to be given its independence, and in January 1961 organised a referendum asking the French public to approve self-determination for Algeria. Three-quarters of the electorate voted in favour.
Letter 11.7. Sophia Lambert at 44 rue Pierre Guérin to Florence Lambert at 2 Aubrey Road, 8 January 1961
… We are having beautiful weather – sunshine and birdsong – for the referendum today. The whole of Paris for the last few days has been seething slightly. Huge government-sponsored advertisements have appeared on all the hoardings, between soap-flakes and undies, with a picture of a Moslem and a European holding hands, underneath which is a large "OUI". I can't help feeling, however, that they would have done better either to buy only the advertising sites that are very high up or to place the "OUI" at the top of the advertisement instead of at the bottom, because every single "OUI" within reach has been covered with a little poster saying "non! non". There is "non à de Gaulle" scrawled all over the walls and pamphlets galore are flying around Paris, but you have to read them rather hard to see whether they come from the extreme right or the extreme left.
Anyway, Mme Hatvany went off with her daughter this morning to vote "OUI", and she said there were thousands and thousands of women there, far more than men. …
------------------------------------------------
Letter 11.8. Sophia Lambert at 44 rue Pierre Guérin to Florence Lambert at 2 Aubrey Road, 12 January 1961
… Yesterday Madame Hatvany went to a reception at the Duchesse de La Rochefoucauld¹. She gives them about twice a year, and all the Ministers, Academicians, aristos and Corps Diplomatique come to them, in fact anybody who is anybody in Paris is invited. Apparently the duchesse is very vieux jeu, so no whisky there, but champagne or orange juice; not even proper canapés but sandwiches, and enormous gateaux that aren't cut, so nobody dares start them. Mme Hatvany says she's sure they bring them out again and again, year after year. But her receptions, from 6 to 8, are one of the does of Paris – you know, there are jokes about them representing the unobtainable in pleb journals….
¹ The Rochefoucaulds are one of the oldest and grandest families of the French nobility. The duchesse Edmée de La Rochefoucauld (1895-1991) was a well-known femme de lettres.
---------------------------------------------------
In the spring of 1961, Sophia paid a visit to Dusseldorf to stay with Florence's sister Nicola and her husband John Roberts, who was a Major in the 1st Battalion of the Welsh Guards and had just been stationed there with the British Army on the Rhine. The Roberts lived in an army base, isolated from German life.
Letter 11.9. Sophia Lambert in Dusseldorf to Florence Lambert at Falkedon, Spreyton, 31 March 1961
… I find this place absolutely fascinating. Nobody knows a word of German; they all consider the Germans as – well, I don't know quite, but they keep reminding themselves that twenty years ago they would be shooting them as soon as look at them etc., which always annoys me.
And they never talk about anything at all except Army and the people in it, what they should be doing, etc. Nobody seems to be interested in anything else except perhaps dogs. So far I have not had to display my enormous knowledge of horses [Sophia was notoriously unhorsy], and I never talk about busbies, and as for guardees, I had never heard the word before. ...
The day before yesterday, we had a children's party for Hilarion's birthday, and all the little horrors, aged from one to seven, came and were amused by musical bumps. Only we had to lay out a beautiful spread so as not to shame Nanny. Afterwards we went out to dinner with Father Cludery [the local Army chaplain] at a Chinese restaurant to recover and had a gorgeous time eating with chopsticks. First of all, John decided that I can't ever have had a square meal in Paris, then he decided I must have a tape-worm, which he promptly christened Thomas. Poor Thomas!
Yesterday we drove all over the country, pied piper country near the Meuse, planning which bridges to blow up and which roads to block and what would be good tank country if the Russians decided to attack. By the end, every time I saw a tractor, I thought it was a tank. I feel like bursting into laughter when I hear them discussing all this absolutely seriously. But of course they have to. John goes around muttering about moral dishonesty. I don't think it's so much moral dishonesty as a big game they are playing, and to say that the Russians would beat us every time and to admit that the British Army here would be useless in a nuclear war is like saying Father Christmas doesn't exist and spoiling the game. They plan what to do after a nuclear attack, and after the last such discussion they asked John to sum up. Well, he stood up and said that after a nuclear attack they hadn't a hope of putting up a defence and whatever there was left would have job enough to crawl home. At first they all laughed and afterwards there was a kind of deadly silence, for one just doesn't say those kinds of things. Afterwards the commanding officer came up and said he agreed with every word but John mustn't say it again. New boy doesn't quite know the rules yet. …
I find it surprisingly difficult to adapt myself to this kind of society after the Left Bank, one is so unused to talking to young marrieds, especially when they aren't the slightest bit intellectual. In Paris one talks about art, literature, religion, politics, philosophy and sex in capital letters and one says exactly what one thinks, so I am losing all my tact and I always forget to think before I speak so as to say what people want to hear instead of what I really think. …
--------------------------------------------------------
Despite de Gaulle winning a mandate from the French electorate for Algerian independence, opposition rumbled on in some right wing circles who regarded Algeria as an integral part of France and de Gaulle as a traitor to the French nation. In April 1961, there was an attempted putsch by certain dissident Army generals. Their plan was first to seize control of Algiers, Oran and Constantine, the main cities in Algeria, and then to send paratroopers down to take over strategic airfields in metropolitan France and seize Paris. The putsch fizzled out when the French Army commanders in Oran and Constantine refused to join it, but not before General de Gaulle, as President of France, had made a famous speech on television, in World War Two style, calling on the French population and Army to support him in repelling any invasion. There continued, however, to be terrorist bombings in Paris by supporters of "Algérie Française" for some time afterwards. In March 1962, the Evian Agreements put an end to the war in Algeria and, after an anxious period, calm returned. Sophia's letters give some glimpses of the effects on Paris life of these events, including a view (no doubt somewhat naïve) in the letter below of the attempted coup itself.
Letter 11.10. Sophia Lambert at 17 avenue D'Eylau, Paris 16ème to Florence Lambert at 2 Aubrey Road, 1 May 1961
Dear M.,
It's le premier mai and the streets of Paris have never been so empty. Or so they say; I haven't been out all day. Nobody does any travail on the fête de travail. Both the little Spanish maids announced this morning that they were going out for the whole day, a thing unheard of. And another thing so unusual here, where shop-shutting days are staggered, not a single shop seems to be open. Only the little vendeuses in the streets selling lily-of-the-valley. …
Here everybody treats the little évènements of last week as slightly a fuss about nothing. The only people who went and stacked up their store cupboards were the personnel of the embassies and NATO. Mme de Boysson had her bridge party just as planned on the Monday, and nobody mentioned politics. The students had a very disciplined and large demonstration down the Boul' Mich, which was so quiet it was like the Aldermaston march [an annual march from London to Aldermaston in favour of nuclear disarmament]. There was the odd tank in the Champs Élysées – in front of the Invalides there are always a few – and tons of empty buses parked along the sides of main arteries, looking horribly desolate and unlit. They were, by far, the thing that made the most impression on me. People stayed up all night watching their televisions or listening to their radios for bulletins, but all they got was M. Michel Debré [the Prime Minister] "qui", declare angrily the Frenchmen, "a affolé la nation" in offering arms to citizens and things. Although the de Boysson men all think what he did was without rhyme or reason and did a lot of harm, my impression was that it was mainly taking all precautions to frighten the rebels. There never was any real danger from paratroops dropping from the sky, as they hadn't enough planes to drop a sufficient number; the only fear was that the army in Europe might turn against the government, but as most of them are new conscripts who know nothing about Algeria and are very Gaullist, and their leaders also, that wasn't very real either.
The most extraordinary thing that came out of all this was perhaps the tremendous solidarity of the people in the Metropole [i.e. France itself as opposed to its overseas possessions], Catholics and communists alike. At the Renault factories (and this deserves a lot more notice than it got), they have 30,000 workers who all live on the site, the director called together the leaders of all the different trade unions – Catholic and socialist and communist and all, who generally won't be in the room together – and proposed what they would do in case of an invasion. Every union would order its men to work under him and they would hold out against the rebels. 30,000 men just outside Paris whose machines can be used just as well to make arms as motor cars.
As for Algeria, Jacques de Boysson [one of the grown-up sons of the family Sophia was staying with] was there the same weekend that I was in England, on business. He saw absolutely no difference; there was the same number of soldiers in the streets as usual, and nothing out of the ordinary except the wireless spitting out propaganda. Of course he decided to leave as soon as possible, in case anything did break out, so went the round of the embassies telling them what a VIP he was. All the boats were full, and the only one he was offered was a sailing boat that was going to take ten days to get to Scotland. So he waited a day and on Tuesday departed peacefully in a Boeing or something (the uprising didn't end till Wednesday). And he spent most of his time on the sea-shore sunbathing and bathing. On his boat/plane hunt, he met the correspondent of Paris-Match, who had been ordered to get to Algeria as best he could. By various means, as you were forbidden to enter Algeria, he finally arrived Monday night or Tuesday morning and, would you believe it, he booked himself into the one and only hotel where there was any shooting, almost the only incident there was, and so was an eye witness.
With love,
Sophia
------------------------------------------------------
Letter 11.11. Sophia Lambert at 17 avenue D'Eylau to Florence Lambert at 2 Aubrey Road,, 18 May 1961
… Paris was very dead today, much deader than during the weekend of the évènements algeriens. Une grève did what les généraux failed to do. We had no metro, no bus, practically no trains throughout the country and no electricity or gas in some quarters. So the parisiens walked to work or did the "auto-stop". But such were the traffic blocks that the ones who walked got there quicker. I walked. All along the Seine. Between eight and nine in the morning there was a tremendous activity in the streets, crowds of people walking around, but the rest of the day, which I spent in the quartier Latin, it seemed more like a suday morning without the church-goers. I was terribly surprised every time I saw a shop open, and the Latin quarter was as empty as I have ever known it. Particularly the cafés, perhaps mainly because owing to the lack of pressure of the gas or electricity working the espresso machines there weren't many hot drinks. At my course at the Sorbonne, most of the students arrived, but not the proferssor. …
-------------------------------------------------------
By this time, Sophia had acquired a French boyfriend, Jacques, a junior civil servant who was doing a university course part-time (and with whom she went out for the rest of her stay in Paris), and was enjoying herself so much that she had decided to stay on for another year and start a degree course in Russian at the École de Langues Orientales, known popularly as Langues O'. In the end, she stayed two further years, and inscribed herself also at the Institut des Sciences Politique or Sciences Po. To help her learn Russian, she asked her mother whether any of her contacts knew of a Russian family in Paris (which was then full of Russian émigrés) who might take her as a lodger.
Letter 11.12. Sophia Lambert at 17 avenue D'Eylau to Florence Lambert at 2 Aubrey Road 26 May 1961
Dear M.,
Sorry I have been so long in answering your letter. Thank you for all you have done about finding a Russian family. … Of course, as long as I have a room with a desk and a bed and somewhere where I can put my books and play my radio and gramophone, I am quite happy. Baths are a nice luxury if they are there, but one can do without them, like nine-tenths of the population of France. All families, even the dullest, have some element of craziness about them which makes things interesting. I'm very philosophical, you can find good in everything, and anything can be made less important if you don't spend your time complaining about it and bemoaning your fate. … I don't know why I am philosophising like this. I was just about to tell you about our maid problems.
We have the most awful old Spaniard, fearfully rustic, who is absolutely incapable of learning any of the etiquette that they are so fond of here. To begin with, she doesn't speak any known language and the only two words of French she speaks are "Je sais", which she says whenever you try and explain anything, and then she goes and does exactly the opposite, and we never know what strange plat is about to be served up for dinner. I always see the amusing side and say that at least it's always a surprise, and Mme de Boysson says "Oui, ça nous change un peu," but M. de Boysson gets terribly het up and says why the hell can't things be arranged better. …
This morning I had a lecture on Girardoux, the last of the Littérature moderne series. I was furious because they didn't do Camus, but our professor has a certain number of idées fixes. (He has an eternal feud with Enid Starkie¹ because they disagree about Rimbaud, how he spent the last years of his life. Enid Starkie claims that he was running guns and slaves in Ethiopia or somewhere, while out M. Adam refuses to hear anything against Rimbaud and says he was engaged in some perfectly legal work. Much duller; if I was a partisan of Rimbaud, I would prefer to have him a gun-runner.) Anyway, one of his idées fixes is that Camus will be completely forgotten in 50 years. Well, about that I have an open mind: when I'm seventy I'll tell you what I think. Even if he is not a great writer, he is a good writer and an enjoyable one to read, and at the moment is extremely popular, and in a course of general culture such as the one at the Sorbonne, which presumably is going to be the most good to us in the next five years, not in fifty years' time, I think they should include Camus.
I had a letter from Caelia. She seems to be growing up all right to me, so don't worry. She says she has taken a liking to jazz, which is always a good sign, as it is much more sophisticated than pop. I hope Cliff Richard² doesn't still hold such a high place in her esteem.
Love,
Sophia
¹ Enid Starkie (1897-1970), Irish literary crtic who had written two books on Rimbaud, including one on his time in Ethiopia.
² Cliff Richard, born 1940, was the most popular pop singer in Britain at the time.
------------------------------------------------------------------------------
The following extract describes an aspect of central Paris life that has largely disappeared.
Letter 11.13. Sophia Lambert at 17 avenue D'Eylau, Paris 16ème, to Flavia Lambert at 2 Aubrey Road, 18 June 1961
… This is a great city for fights. Especially in the Quartier Latin, which is the students' district, you are always coming across large groups of people in the middle of the road holding up the traffic. Usually in the middle of the group two people are fighting, and all the others are trying to see. And all around the traffic, that can't get past, is becoming angrier and angrier; and all the drivers get out and start gesticulating, as you are not allowed to hoot in Paris. …
--------------------------------------------------
Sophia had been introduced to another aristocratic French family who had a large château in the Poitou (where the de Boyssons also had a property) and took young foreigners as "paying guests" to learn French. Sophia spent two or three weeks there in August 1961, when she moved out of the de Boyssons' flat. The château was divided into three dwellings. In one wing there lived the Vicomtesse de la Barre de Nanteuil, with whom Sophia was lodging. She was a widow probably in her sixties at the time, with four grown-up children (including one who was a diplomat and subsequently became French Ambassador in London) and numerous grandchildren. The central part of the château was inhabited by her sister, also a widow but with no children. She used to eat with the de Nanteuils and, as she was a comtesse and therefore superior in title to her sister, Mme de Nanteuil's maid who announced the meals would always say "Madame la comtesse est servie". The other wing harboured a mentally deficient third sister or cousin and her female attendant. She was never mentioned by the rest of the family (shades of Mrs Rochester) and only occasionally glimpsed being walked in the grounds by her attendant. In the summer holidays, Mme de Nanteuil's daughters and daughter-in-law descended from Paris with their children, and their husbands would come at weekends. Conditions in the château were fairly primitive. The water came from a lake opposite and was strongly discoloured with iron; on occasion, Sophia remembers that small creatures could be seen swimming in her glass of water at meals.
Letter 11.14. Sophia Lambert at the Château de Verrières, par Lhommaizé, Vienne, to Florence Lambert at 2 Aubrey Road, 28 August, 1961
… I don't know what sort of dump I have landed myself in this time. It's an enormous, slightly dilapidated château full of females and their children. There's Mme de Nanteuil, who is the grandmother; her sister; and her two daughters and a daughter-in-law. One of the daughters has five children ranging from 17 downwards. And two or three rather tired-looking servants. She (I mean Mme de Nanteuil) is a typical grasping Frenchwoman [Sophia may be doing her an injustice here, as she probably had a terrible job to keep everything going]. One eats à la de Luget – last night in the huge gloomy dining room we had soup, beans and a kind of disgusting rice pudding. … The water is beautifully irony, just like the old days at Spreyton. She turns on the electricity after dinner, and it's turned off again at midnight. Nice grounds, from what I have seen of them.
At the moment it is after breakfast and one of the little boys is shooting things across the room. The girl is playing English and American pop records on a tape-recorder. They have a whole tape-recording of Family Favourites [BBC radio programme] – Caelia no doubt would feel quite at home. There are pictures of the Vicomtesse and her sister in their youth or as children – you know, curly-haired Victorian children rising naked-shouldered from clouds of chiffon; the usual old early 19th century scenes of drama: the eloping daughter, and the militaires entering to take the handsome revolutionary. Now we are listening to the Top Twenty, taped from Radio Luxembourg.
With love,
Sophia
-----------------------------------------------------
Letter 11.15. Sophia Lambert at the Château de Verrières to Florence Lambert at 2 Aubrey Road, 28 August, 1961
… It is a continual coming-and-going and it is a rarity if we sit down to lunch with less than a dozen. Everybody who comes is of course family, but their family seems to include all the French nobility. Last week, for one night, we had a couple with their daughter and fiancé. They were taking the fiancé on the rounds of the family to show him to everybody to approve. The poor boy was absolutely lost among all these old people who fell on each other's necks and started recounting stories of yet other members of the family. He spent most of the day with the children playing with an air-gun, evidently much more at home. The fiancée was a tiny little thing, who had done her licence [degree] in English, but looked for all the world like a little girl of 13, delicate as porcelain. The fiancé had one eye out of alignment, most disconcerting. …
Today, with Mme de Nanteuil's two daughters and their gorgeously soft and comfortable Citroën, I visited (1) a curé, just like Clochemerle; (2) an old witch of a cousin who lived in a 19th century château, bursting with horrors – you know, the type of ornament favoured by concierges, in unhappy abundance – and the château itself was full of marble and gilt and there were vases full of peacock feathers; and (3) an antiquaire. There was a lovely grandfather clock, 18th century, very simple, didn't work, for only 11,000 francs (£8?). All the things came from the houses of noble families, and it was very amusing how, every time an object was pointed out, the antique dealer would say, oh yes, that belonged to the Comtesse of so and so, and the old de Nanteuil aunt who was with us would exclaim that of course she knew them well. The luckier aristocracy buying up the former possessions of their impoverished friends.
I visited Mme de Boysson's château, which was really charming. No peeling paint and gloominess, but bright and new, done up inside with perfect taste, all in excellent condition, lovely chairs, and huge vases of some of the best flower arrangements I have ever seen. It was very agreeably surprising after their Paris flat. The château itself was a kind of soft château-fort, lovely round towers and pink in colour, instead of the usual severe grey.
With love,
Sophia
--------------------------------------------------
In the autumn of 1961, Sophia moved to new lodgings, with a Russian émigré family called Panoff – husband, wife and two daughters aged about 17 and 21. Around the same time, Sophia's novelist cousin Frank Tuohy came to Paris for a few months, staying in a very cheap and grotty hotel, in order to work on his novel The Ice Saints, finally published in 1965.
Letter 11.16. Sophia Lambert at 3 rue Bixio, Paris 7ème to Florence Lambert at 2 Aubrey Road, 20 October 1961
… I went and saw Frank, who has killed off the cafards [cockroaches] in his room, but the hotel seems to be equally crawling with Indo-Chinese toddlers belonging to the young couple who seem to run it – or maybe it's run by the grandmother offering advice from her rocking-chair. The residents are elderly French females with their knitting. … Frank came to Paris principally to finish the novel he has received an advance for because he said the atmosphere was hopeless in London, while here the place is wormholed with writers busily writing in tiny top-floor hotel rooms. Unfortunately, however, the hotel is just opposite St-Germain-des-Prés, in a minute back street, which despite its size boasts of four boîtes de nuit, and throughout the night drunken French, American and German – in that order – voices come wafting up to his room. …
I am no longer among the aristocracy, although I live in a very snob block of flats. The roadway outside is littered with Citroëns and other smart cars; important-looking messieurs entrent et sortent; the mothers have a car; the fathers have a car; the sons have an English sports car; and the daughters have a pale pink poodle with a ribbon tied round its neck, and not even the poodles deign to talk to the Panoffs.
He (M. Panoff) is rather picturesque with fiery oriental eyes, paints picture postcard-type landscapes in colour, makes home-made films of their holidays, and is an ingenieur – which doesn't mean engineer, as it is always in France a completely white-collar job. He gets up to go to work at 6.45 every morning, and if you want to be woken up early you leave a note beside the alarm clock on the fridge, giving the hour you want him to wake you. He is 60 and quite a lot older than she is. She is run off her feet with all the housework and the making of borshcht which takes about five hours' solid work, and neither of the daughters ever help in the house – typically French. … There is also the grandmother who comes in to help everybody with the housework, enormous, and speaks atrocious French. They all do, specially the father; Mme Panoff's is correct but I don't understand half of it because of the accent. Even the daughters have a Russian accent.
They are inclined to burst out, and to turn molehills into the most wonderful tragedies, so that you hear an enormous noise and think the end of the world has come. Last night, one of the daughters was going to a party – the one of 21 or so – and she wanted to wear a certain dress, while her mother wanted her to wear another. So her mother took all her shoes and her pearl necklace and hid them, and then went out. Finally, she found the shoes and borrowed a pearl necklace from me. …
-----------------------------------------------------------
Letter 11.17. Sophia Lambert at 3 rue Bixio to Florence Lambert at 2 Aubrey Road, 30 October 1961.
… You are always telling me that I should do winter sports and that you wouldn't mind my not coming home for Christmas if I did that instead, so I thought I might go this year, with Jacques (for whom, as he is French, le sport d'hiver is one of the year's musts). Not very expensive, with a student organisation. If you don't want me to, it is just too bad, because being a minor I have to have written paternal authority.
I can just imagine your "quietly elegant" overcoat. What a horrible cliché. I think you read too many fashion magazines – obviously you will end up talking just like a superior shop assistant at this rate. …
--------------------------------------------------
Letter 11.18. Sophia Lambert at 3 rue Bixio to Florence Lambert at 2 Aubrey Road, 2 November 1961.
… Really, I don't see what Daddy has to be Victorian about, if I went and did winter sports with a student party that happened to include Jacques. You generally do winter sports with parties, and generally with mixed parties, and even if you don't know any of the male members of the party beforehand, you'd probably know them all by the end, so it comes to more or less the same thing. I suppose you would suggest that I go and do winter sports with a girls' finishing school like Louise, who used to get her bottom pinched by the ski instructor. There are far too many men in this world – thank goodness – to escape them all. …
On Sunday I am going to Mass in Notre Dame with Jacques at the invitation of the Ministère des anciens combattants (Ministry of Pensions). And after that the Minister is going to ranimer la flamme on the grave of the unknown soldier. I always wonder who puts it out. Various Americans always try by peeing on it. …
Sophia's father overcame his Victorian attitudes sufficiently to sign the necessary consent form for her to go skiing with Jacques. The expedition was organised by a communist youth organisation and the participants were housed in a no-frills chalet, with strict segregation of boys and girls into separate dormitories.
---------------------------------------------------------------------
Letter 11.19. Sophia Lambert at 3 rue Bixio, to Florence Lambert at 2 Aubrey Road, 9 February 1962.
… The day before yesterday, there was a student demonstration against the O.A.S. [Organisation de l'armée secrete, the right-wing terrorist organisation fighting against Algerian independence], which went off very calmly. In the morning, practically none of the professors [at Paris University] gave their lectures, all having been asked to associate themselves with the movement by the syndicat of their faculté – they start trade-unionism at the University here. The syndicat which is in power at Langues O' is the "Corpo" (Corporation d'étudiants – it's all rather complicated: there is UNEF (Union nationale d'étudiants de France) which is a kind of nation-wide students' trade union with one or two unimportant rivals, and then each faculté has one or two of its own trade unions, at least one of which is generally associated with the UNEF, and at the beginning of the year there are votes for who is going to be in power that year. Langues O', who are rather afraid of being called communist because of all the languages they learn, generally elect the Corpo, which is always rather right-wing (there is a Corpo in practically every faculté). Anyway, our Corpo decided to associate themselves with the demonstration and wrote to all the professors asking them to associate themselves too; but, whether on purpose or not one doesn't know, most of the letters arrived a day late, and most of the professors gave their lecture, including ours, so at the next lecture they hastily rectified the situation by saying that the register for that day would be annulled. So we were on strike and went to the lecture at the same time, which is rather an achievement.
In the Quartier Latin, all the metal name-plates had been taken off the buses so as to stop people using them as weapons. There were huge black buses full of bored policemen looking hostilely through the windows at the students peacefully walking to and from their classes. All these black buses were parked on the pavement in the place of the stalls selling sweets.
Yesterday, as you probably read in the newspapers, it was much worse, as the demonstrations by the socialists were forbidden by the government and the police had to disperse them. The people who were killed, however, were mainly suffocated by the crowd, not shot or hit by the police. Everybody is absolutely furious, so much so that Frey, the Minister of the Interior, is having to make a radio-televised speech this evening at 8 (a medium and an hour generally reserved for de Gaulle) to make excuses for the interdictions [bans] and the forces de l'ordre. The Government generally forbids demonstrations by any extreme political party, whether the left-wing or the Indépendents (nice name for the Algérie Française people). And the Panoff grandmother has just come in to say that the bus and metro have gone on strike without any warning, in protest. However, it seems that a settlement has already been reached or is on the point of being reached any moment. De Gaulle has done his job.
Love,
S.
---------------------------------------------------------
Letter 11.20. Sophia Lambert at 3 rue Bixio to Flavia Lambert at 2 Aubrey Road, 4 March 1962.
… Yesterday I went and saw Bindy Cooper¹, who is living in a convent just outside Paris and learning the piano like mad. The Convent has the same kind of nuns as More House. … I rang up Bindy and asked her whether she would like me to come and take her out to lunch, and she said she would adore it, so I went along to the convent, but the Nuns wouldn't let me take her out because they thought I might be a kidnapper or something, so they gave me lunch in the convent. It was not a bad lunch, much better than More House because it was in France – we had roast veal and fried potatoes, followed by a kind of pea and grated carrot salad, cheese and fruit, and we had a private table in the refectory all to ourselves. The other girls are all about twenty, and are students of maths and all kinds of other horrible subjects.
Bindy has her own private apartment of two rooms, bedroom and study with piano, which I thought terribly posh for a convent. She now speaks absolutely perfect French and says she is beginning to forget her English.
The Russians never stop shouting at each other, and every now and again one hears Mme Panoff sigh "c'est inouȉ" (it's unheard of) and one knows that she has discovered a door open that should be shut or something equally futile, and one knows that she is going to find the culprit and spend the next half-hour shouting at him or her. If she shouts too much, the culprit rushes into her room, slamming the door behind her and bursting into tears, and then one has relative calm for some minutes – until they both emerge from their rooms with renewed strength and begin shouting at each other even louder. …
This evening I went to the Russian cinema which shows a new Russian film (Soviet) every Sunday. All the old Russians in Paris turn up – of all shapes and sizes but generally rather stout – and as they all know each other they all keep each other's places in the queue, so you can imagine the queue is rather non-existent and the poor young Frenchman who tries to keep in order has an impossible job as waves of Russians bearing down on their friend are always overwhelming him.
Paris is getting fuller and fuller of policemen, standing around outside the doorways of every important person or organisation, with machine-guns in their hands. They all have a different way of carrying their machine-guns: there are some who lean against the wall staring up into the air (probably the ones in love) with their machine-guns hanging at a most unuseful angle; and others who stand there talking with their guns rakishly slung over their shoulders; and others who stare hostilely at the passers-by with their guns aimed all ready to fire. …
¹ Imogen Cooper, born 1949, concert pianist. She was briefly a contemporary of Flavia's at More House School in London (where her eldest sister was a contemporary of Sophia's). But as she showed such talent as a pianist, her parents removed her from More House when she was 12, and sent her to board at a sister convent in Paris so that she could study at the Paris Conservatoire.
---------------------------------------------------------
Letter 11.21. Sophia Lambert at 3 rue Bixio to Florence Lambert at 2 Aubrey Road, 22 June 1962
Dear M.,
Thank you for your letter. Martha [a young American girl Sophia had been asked to entertain] and her friend arrived in the middle of a gas and electricity strike – a fairly frequent occurrence here, I must say. Fortunately they turn everything on again in the evening and it only lasts one or two days, but during the daytime there is no metro, buses are like sardine tins and taxis unobtainable – all rather disconcerting to an American who is used to go everywhere by car. However, their hotel, which was one of those old ones without glass doors or lifts, but with red carpets and dirty cream paint, looked rather picturesque lit by oil lamps, which must have pleased them, as they went around saying how old everything was in Paris.
I walked them round Paris a bit – it was rather disconcerting to find, every time I turned round to point out some historic monument, that two cameras had appeared as if by magic and had flashed simultaneously to their eyes. Click, click, and then they disappeared again.
I tried to get hold of Nicky [Barran, a cousin by marriage then living in Paris], but he is never in and I had not got the time to go round the Quartier Latin stopping every young Englishman I saw and saying "Do you know Nicky Barran, and if so where can I find him?". So I got Jacques and another young man who speaks a bit of English and who has a large plushy Citroën (which is always an advantage), and we took them to a pittoresque restaurant where we ate snails, frogs, pigeons, petits pois and strawberries in that order with lots of wine, so they could say they had eaten all the strange things that Frenchmen eat. We then took them to a little boîte de nuit on the Île St. Louis which is tiny and has no cabaret, but no tourists either, one of the most sympathique of the Paris boîtes.
In fact I think it was probably better having Frenchmen than Englishmen for the occasion, particularly as they were Frenchmen of a certain age (26 and 31), because they know much better how to treat girls. They say the right things, are more amusing and flirt with the girls, and in general are more appreciative of the female.
Martha has improved since she has lost so much weight and I thought she was very pretty. But both the young men preferred Ginia, for an evening at least, because she was much more lively and less frigid, more petillante, and Jacques said she was by far the most attractive. Although they danced equally with both of them, I think Martha realised this, and there was one rather awkward moment when Martha wanted to go home and the other one didn't. Both the young men wondered at how sophisticated they were, and said they were as mature socially as a French girl of 25.
The third day of their stay, they found friends in the American Embassy, so I was débarrassée of them. …
None of the French – except the kind of exiled-minor-royalty, intellectuals and odd bods of the Sandra-Hatvany class – ever drink strong alcohol or have their women smoke solidly before, in between and after courses, and it was somehow choquant to see the way in which those American girls downed gin and tonics. …
------------------------------------------------------
Letter 11.22. Sophia Lambert at 3 rue Bixio, Paris 7ème, to Florence Lambert at 2 Aubrey Road, London W.8, 11 March 1962.
… Here in Paris we are cernés [surrounded] with anti-aircraft guns and the top of the Arc de Triomphe has been made into a temporary headquarters, or brain, for the police organisation. You are always coming across groups of police with machine guns stopping cars and examining them for plastic [bombs].
Yesterday I went to a Grand Bal with Jacques and his patron – not boss – mortally boring as usual, but quite fun to see that the French are just as badly dressed as the English with just as many hooks undone and bra straps showing, except for some glittering exceptions which make all the difference. It was the dance of one of the Grandes Écoles – of the civil service [École Nationale d'Administration], so most of the Ministers, ex-pupils, were there and all kinds of important people in Government circles. But as I am a terrible dancer, big dances are always disappointing – I only like ones in private houses. …
By the way, are you coming for a weekend? The general idea is that, if anything big is going to happen here, it will happen in the next few weeks as the various results of the negotiations are put into practice, so why not come in a month, just before the Easter holidays – if you are not rushing off to Lebanon or somewhere. …