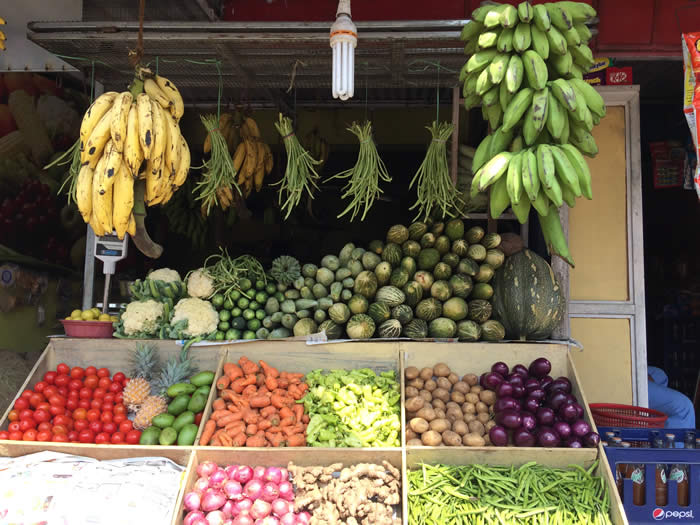 Vegetable stall in Kerala
TOMATOES, PEPPERS, AUBERGINES, SQUASHES etc.
(V) indicates vegetarian recipes, and (VV) indicates vegan recipes.
Tomatoes
Peppers
Squashes, courgettes and pumpkin
(VV) TOMATOES WITH ROSEMARY AND GARLIC (for 2)
This has a soupy texture and can be eaten with a spoon as a starter.
200gr cherry or other smallish ripe tomatoes , scalded and peeled
1 dessertspoon caster sugar
1 sprig rosemary
4-6 garlic cloves, peeled and sliced
olive oil, salt, pepper
Take a frying-pan into which the tomatoes will just fit in one layer. Put the sugar and 1-2 tablespoons of water into the pan and heat stirring until the sugar has melted. Add a generous amount of olive oil, together with some salt, the rosemary and the sliced garlic. Cook gently for 5 more minutes. Add the tomatoes and cook gently, uncovered, for a further 15 minutes or until the tomatoes are soft and collapsing, turning at least once. Add pepper and fish out as much of the rosemary as you can before serving.
Peppers
(VV) STUFFED PEPPERS WITH POTATOES (for 2)
2 large red or yellow peppers
1-2 medium potatoes, cooked and roughly mashed
1 onion, peeled and finely chopped
½ teaspoon each cumin seeds, mustard seeds and ground coriander
1 very small knob ginger, peeled and grated
1-2 pinches of chilli powder
1 tablespoon lemon juice
oil, chopped fresh coriander
Heat some oil in a pan and add the cumin and mustard seeds. When they begin to darken and splutter, turn down the heat and add the onions and powdered coriander. Cook gently until the onions are soft but not coloured. Add the ginger and chilli powder and cook a few seconds more. Mix this mixture together with the mashed potatoes, lemon juice, some salt and 2 tablespoons of chopped fresh coriander leaves. Cut off the stalk ends of the peppers to create lids. Remove the seeds and as much as you can of the whitish membrane from the interior of the peppers. Stuff the peppers with the potato mixture and cover with the lids. Put into an ovenproof dish and cook in an oven pre-heated to 200º/gas mark 6 for about 40 minutes.
(V) RICOTTA STUFFED PEPPERS (for 2)
A good vegetarian dish. Be warned that preparing the peppers is a bit fussy to do.
2 big long pointed (romano) red peppers
80-100 gr ricotta
10-12 green olives (fewer if they are very large), pitted and chopped
chopped white part of 1-2 leeks
1 clove garlic, peeled and finely chopped
pepper, olive oil, oregano or thyme
Put the peppers in an oven-proof dish and anoint with some olive oil. Roast for 15-20 minutes in an oven pre-heated to 200°C/gas mark 6. Leave to cool a bit and then carefully remove the skin and the stalk. Make a long slit lengthwise in each pepper so that they can be opened out. Carefully remove the seeds. Melt the chopped leeks in some olive oil without browning (about 8 minutes). Add the chopped garlic and cook for another minute. Take off the heat and stir in the ricotta, chopped olives, pepper and thyme or oregao (salt should not be necessary as the olives are salty). Stuff this mixture into the peppers, pulling up the sides to cover as much of the stuffing as you can. Replace in the pre-heated oven and bake for 10 minutes. Can be served hot or lukewarm.
A good alternative stuffing (based on a recipe by Ottolenghi) can be made by replacing the ricotta with crumbled feta and the olives with 1 tablespoonful of toasted flaked almonds. Added salt will be needed.
Aubergines
A version of a traditional Turkish recipe.
1 big fat aubergine
1 onion, peeled and chopped
200gr/8 oz tinned peeled plum tomatoes (or nice sweet fresh ones, peeled)
2 cloves garlic, peeled and chopped
salt, pepper, olive oil, origano, chopped parsley
Cut the aubergine in half lengthwise and scoop out a little of the flesh. Put both the aubergine and the scooped flesh into a bowl of salted water and leave for half an hour. Rinse and squeeze out as much of the moisture as possible. Fry the aubergine halves on both sides in some olive oil, until lightly coloured. Arrange them cut side up in an oven-proof dish just big enough to hold them. Soften the onion and garlic in a generous amount of olive oil without colouring. Add the scooped out aubergine flesh and the tomatoes, roughly chopped, and the herbs, with a little salt and pepper. Cook for another 15 minutes and fill the aubergine halves with this mixture. Pour the tomato juice from the can (or a little tomato puree mixed with some water) around the aubergines and pour a tbsp of olive oil over each half. Cook in an oven pre-heated to gas mark 4/180º C for 1 hour (more for very big aubergines). Serve hot, tepid or cold.
A recipe from Sicily, which claims to grow the best capers in Italy.
700gr aubergine, cut into 1 cm cubes
2-4 sticks celery, finely chopped
1 onion, peeled and finely chopped
400-500gr Italian peeled plum tomatoes, chopped
3 tsp tomato paste
2 tbsp wine vinegar
2 tsp sugar
3 tsp capers
3 anchovy fillets, chopped
100gr green olives, stoned and chopped
salt, pepper, olive oil
Salt the aubergine and leave to drain for 30 minutes. Rinse and squeeze dry. Soften the onion and celery in some olive oil without colouring. Separately brown the aubergine in olive oil until almost done. Mix the two together and add the vinegar, sugar, capers, anchovies, tomatoes and tomato paste. Simmer for 15 minutes. Stir in the olives, and add salt and pepper to taste. Can be served hot, cold or lukewarm.
AUBERGINE, RED PEPPER AND ONION WITH GOAT'S CHEESE (for 2)
1 medium aubergine
1 long pointed red pepper
1 red onion
Soft goat's cheese
Basil
Olive oil, balsamic vinegar, salt, pepper
Heat the oven to 240°C. Cut the aubergine in half crosswise, then cut each half into 4-6 wedges. Cut the red pepper into 2-3cm rings, removing the seeds and stalk. Peel the onion and cut into 6 wedges. Arrange the aubergine on a baking tray, cut side up, so as to leave room on the tray for the other ingredients. Anoint generously with olive oil, salt and pepper. Bake for about 7 minutes. Add the pepper and onion pieces, again well oiled, salted and peppered. Bake for a further 15-17 minutes. Leave to cool to lukewarm (can also be served cold). Dress with a little good quality balsamic vinegar (there should be enough oil from the cooking, but some can be added if desired). Serve dotted with teaspoonfuls of goat's cheese.
Squashes, courgettes and pumpkin
VEGETABLE SPAGHETTI MARROW (for 4)
1 medium vegetable spaghetti marrow
tomato or other spaghetti sauce
grated parmesan
Choose a marrow not more than about 10 in/25 cm long. Remove the stalk and pierce with a skewer. Put it in a large pan of boiling water and cook for about 20 minutes. Drain, cut in half lengthwise and remove the seeds. Lift out the spaghetti like threads with a fork and distribute onto plates. Serve with spaghetti sauce and grated parmesan.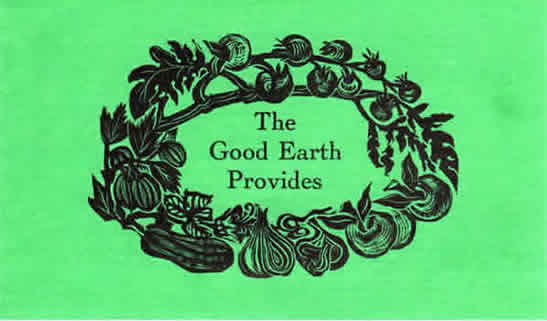 Lambert motto decorated by Enid Marx