Samarkand
VENISON WITH SOUR CREAM (for 8)
1.2-1.5 kg venison
half a bottle of red wine
2-3 carrots, peeled and chopped
2-3 celery stalks, chopped
2-3 onions, peeled and chopped
12 peppercorns, crushed
2 bay-leaves, thyme, salt, light olive or sunflower oil
120-150ml soured cream
Cut the venison into 1 in/2.5cm cubes. Leave to marinade in the fridge for 1-3 days with the wine, peppercorns, bay-leaves and thyme. Remove the meat from the marinade and pat dry with kitchen paper. Put the flour with some salt and pepper in a plastic bag, add the venison and while holding the bag closed shake vigorously to coat the pieces in flour. Shake any excess flour off the venison pieces and brown on all sides in a little oil. Put the browned meat into an oven-proof dish with the carrots, onions, celery and salt. Heat the marinade until it bubbles and pour it over the meat. Add enough water just to cover all the ingredients. Put a layer of foil over the top of the casserole and then the lid. Cook for at least two and a half hours in an oven pre-heated to gas mark 2/150° C, adding more water if it gets too dry (it is cooked when the meat can easily be broken up with a wooden spoon). It can be prepared in advance up to this stage and frozen or reheated. Before serving, stir in the soured cream and serve with boiled or mashed potatoes.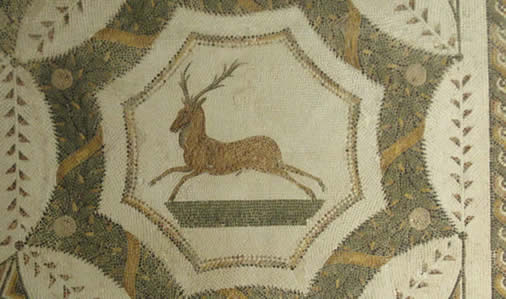 Roman mosaic
VENISON WITH BLACK PUDDING AND CHESTNUTS (for 4-6)
This recipe by Mark White was published in The Guardian and makes an intersting alternative to the recipe above.
600-700gr diced venison (fairly large pieces, preferably)
100-150 gr black pudding
1 onion, peeled and chopped
1 carrot, peeled and chopped into rounds
1 celery stalk, chopped into 3cm pieces
4 rashers smoked streaky bacon, de-rinded if necessary and diced
1 glass red wine
Chicken or beef or vegetable stock (made with a cube will do)
2 bay leaves
4-8 cooked and peeled chestnuts, broken into 2 or 3 pieces.
Flour, light cooking oil, salt and pepper
Cook the onion, carrot, celery and bacon gently in some oil until the onion is translucent. Put 2-3 tablespoons of flour into a plastic bag (choose one without holes) and add a teaspoon of salt and a good grind of pepper. Mix together and add the venison. Close the bag and give it a good shake to coat the venison. Heat some oil in a large frying-pan and brown the venison (first shaking off excess flour) on all sides, if necessary on batches. Put into an oven-proof casserole, together with the onion-carrot-bacon mix, the bay leaves, red wine and crumbled black pudding. Pour over enough stock to just cover the venison. Bring to a simmer. Cover the casserole hermetically with some foil and a lid and cook for two-and-a-half to three hours in an oven pre-heated to 140°C/gas mark 1, adding some water if it becomes too dry. It is done when the meat can be broken with a wooden spoon. Add a handful of peeled and cooked chestnuts (the vacuum packed sort or tinned chestnuts are fine) about half an hour before the end of the cooking.
*********************************************************************************************
"Well girls,'' said she, as soon as they were left to themselves, "What say you to the day? I think every thing has passed off uncommonly well, I assure you. The dinner was as well dressed as any I ever saw. The venison was roasted to a turn -- and everybody said they never saw so fat a haunch. The soup was fifty times better than what we had at the Lucases' last week; and even Mr. Darcy acknowledged, that the partridges were remarkably well done; and I suppose he has two or three French cooks at least."
Mrs Bennett in Jane Austin's Pride and Prejudice, after giving dinner to Mr Darcy.
*********************************************************************************************